EU representation responds to Putin's recent visit
By Ana Robakidze
Thursday, August 29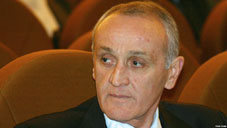 The European Council observation mission has expressed its concern regarding the recent visit Russian President Vladimir Putin paid to the breakaway region of Abkhazia. According to the statement the EU published, it is a concerning fact that the visit was not agreed to by the Georgian government.
'The EU representation believes that this is inconsistent with the principles of sovereignty and the territorial integrity of Georgia. The EU representation again stresses its adherence and support to Georgia's territorial integrity and sovereignty within internationally-recognized borders," says the statement. The EU does not consider these visits compatible with the principles of sovereignty and territorial integrity of states and once again underlines the importance of peaceful conflict resolution in the region and calls for strong commitment by all concerned parties in this regard.
The delegation reiterated the EU's firm support for Georgia's sovereignty and territorial integrity within its internationally recognized borders.
President Putin paid his visit to breakaway Abkhazia and met with de-facto leader Alexander Ankvab in the resort town of Bichvinta on August 25. Putin arrived in Abkhazia on the eve of fifth anniversary of Russia's recognition of Abkhazia and of South Ossetia.
The Ministry of Foreign Affairs immediately reacted and sent a protest note to Russia. The Georgian government said Vladimir Putin violated Georgia's national sovereignty.
However, the Abkhazian side does not feel that the Russian president had to agree with his visit with the Georgian side. The statement released by the de-facto Ministry of Foreign Affairs of Abkhazia, says there was no need to have an authorization from a "third party" to arrange visits to Abkhazia.
According the statement, the Abkhazian people achieved a victory in a war with Georgia and succeeded in building up a sovereign state.
The de-facto Abkhazian government does not intend to review its relations with Russia and says close cooperation between the two states will continue into the future.
According to Ankvab, he discussed a wide range of issues with Putin, including economic and security issues. "Over the last 5 years we have signed over 80 bilateral agreements with Russia and we continue to cooperate," Ankvab stated, commenting on his meeting with Putin.
The de-facto President of Abkhazia once again called on the Georgian government to change its policy and realize Abkhazia is an independent state now and it is ready to be a good neighbor to Georgia.
"Abkhazia is an independent state and this is irreversible," Ankvab stated.