Patriarchate discusses Minaret issue
By Ana Robakidze
Friday, August 30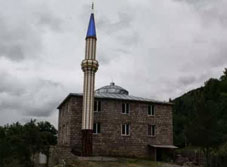 The minaret of Chela's mosque, which was removed and taken to Tbilisi for examination earlier this week, has been returned to Chela but will not be reinstalled for the time being.
On August 29th, the Patriarch of Georgia Illia II met with Muslim leaders in Georgia and discussed the Chela incident with them. After the meeting, representatives of the Georgian Orthodox Church and Georgia's Muslim community made a joint statement and announced that in the interests of both sides the minaret will be stored in neutral territory in the village of Chela. The Patriarchate has asked the government to reconsider its legislation on the construction of religious buildings. The minaret will remain stored until the legal matter is resolved.
On August 26th, local government officials started dismantling a 24-meter long minaret from a mosque in Chela. The minaret had been brought from Turkey and was installed in July 2013. In August the local council of Chela declared that the mosque had been illegally constructed and needed to be removed.
The Muslim community in Batumi protested against the removal of the minaret from the Chela mosque. The protestors demanded the return of the minaret back to its original location. Some protesters in Batumi also held banners stating: "Hands off from Islam". On the same day a meeting between Archil Khabadze, head of the Adjaran government, and Muslim clerics was held in Batumi Mosque. Khabadze was told that the removal of the minaret in Chela was a great insult to the Muslim community in Georgia.
According to Jemal Paksadze, the mufti of the Georgian Muslims' Directorate, Prime Minister Bidzina Ivanishvili was involved in resolving the incident, for which Muslims thank him.
Representatives of the Caucasian Muslims' Community in Georgia released a special statement regarding the recent incident in Chela and have called on the Georgian government to avoid increasing tension between Christians and Muslims. The community expressed concern over harassment and cited several recent incidents between Christians and Muslims. "We call on the Georgian government to take necessary measures to prevent escalation of religious tension, which would lead to negative consequences in a multiethnic and multi religious country such as Georgia." their statement reads.
According to Georgian Public Defender Ucha Nanuashvili, his office will publish a report on the incident in the next few days. While the public defender does not deny the existence of some legal basis for the removal of the minaret, Nanuashvili thinks removing the minaret was insensitive and crass on the part of the authorities and that the Muslim community has a right to be offended.
Georgian expert and political analyst Mamuka Areshidze is very concerned over the Chela incident. According to Areshidze, members of the former government exploited religious differences. Areshidze has called on both sides to refrain from provocation and violence.