U.S. Deputy Assistant Secretary is optimistic about the political environment in Georgia
By Ana Robakidze
Friday, September 13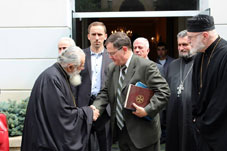 The U.S. Interagency Mission, led by Thomas O. Melia, the Deputy Assistant Secretary of State for Democracy, Human Rights, and Labor, is visiting Georgia. The delegation is studying the election environment, the level of human rights protection and ways to deepen cooperation in defense between Georgia and the U.S.
The delegation has already held a number of meetings, including with President Saakashvili, Prime Minister Ivanishvili, Speak of Parliament Davit Usupashvili, various government ministers, the Patriarch of the Georgian Orthodox Church and leaders of other faith communities, civil society representatives and presidential candidates.
The Interagency Mission also met with Tamar Zhvania, newly appointed chairperson of the Central Election Commission (CEC).
Citing the level playing field, the U.S. Interagency Mission focused on the respect of fundamental freedoms, the rule of law and due process and media freedom. Melia said that the environment must facilitate the free and unhindered participation of all political parties and candidates. In an official statement, the delegation noted that the political environment has drastically improved recently.
"The overall political environment is free and competitive, even more so than it was twelve months ago prior to the parliamentary elections." Melia read out in a prepared statement. He also stressed the importance of the presidential election. "The upcoming election is an opportunity for Georgia to demonstrate its democratic development and thereby to advance its Euro-Atlantic aspirations." Melia stated.
Melia noted that there have been some concerns regarding minority groups which should be addressed. Melia referred to the incidents that took place between Christians and Muslims in the villages of Chela and Samtatskaro. "The incidents in Chela and Samtatskaro are deeply troubling and negatively affect the pre-election environment by undermining minority communitiesí feelings of self-determination and freedom to choose a political candidate." Melia said. He also added that after a conversation with the Catholicos-Patriarch Illia II, he is sure there will be no more problems in relations between religious groups. Melia stated that U.S. attaches great significance to the freedom of religion, both in domestic and in foreign policy.
Preparations for the election were also discussed at the meeting between the U.S delegation and Interior Minister Irakli Garibashvili. The delegation once again emphasized the importance of the democratic electoral process. At the Interior Ministry, the interagency mission was joined by the U.S. Ambassador in Georgia Richard Norland and other representatives of the embassy.
The U.S. delegation paid special attention to the process of Georgia's accession to NATO at the meeting held at the Ministry of Defense. Among the Georgian government representatives present were Defense Minister Irakli Alasania, Chief of the Joint Staff of the Armed Forces Colonel Irakli Dzneladze and Deputy Defense Ministers Tamar Karosanidze and Mikheil Darchiashvili. The parties discussed recent reforms carried out in Georgian defense, as well as personnel and military education.