INRMW-Georgia program helps school children choose a profession
Friday, September 13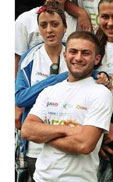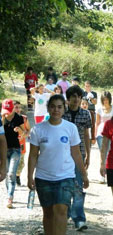 Megi Gamtkitsulashvili, a graduate of Napareuli public school, recalls how she participated in the first eco-camp organized by the INRMW program in August 2011 at the Lagodekhi protected area. Those six days have become one of the most memorable periods in her life.
In the last two years Gamtkitsulashvili has participated in four eco-camps and received training in team building and leadership; project drafting and designing; manmade and natural disasters, disaster risk reduction as well as climate change reduction.
"Last summer I successfully completed the training program and received the certificate of eco-trainer during a summer camp organized in Racha. After receiving the eco-trainer's certificate, I was twice invited to participate in the INRMW eco-camp as a leader. I also assisted an INRMW program communications officer in public relations and branding trainings. The knowledge and experience that I gained has proven very important to me. This year I was admitted to Ilia State University to study ecology. I have received a 70% scholarship." Gamtkitsulashvili said.
Khatia Papuashvili, another graduate of Napareuli public school, was admitted to Ilia State University with a 50% scholarship. Papuashvili will study biology. "I was very certain that I wanted to be a movie actress, but the participating in the EcoClub and especially the eco-camps really changed my life. I feel fortunate to have been a member of the INRMW program at the four eco-camps in the Lagodekhi protected area, Mtirala National Park, Shovi and Kazbegi. I learned a lot about the unique flora and fauna of Georgia. I know that I will continue to learn and work in wild life conservation." Papuashvili said.
Tamaz Sozashvili, yet another graduate of Napareuli public school, was awarded a full scholarship to study chemistry at Tbilisi State University. "Almost three years experience has given me a clear vision of my future profession. In 2011 INRMW-Georgia program organized an eco-camp in the Lagodekhi protected area where the Napareuli public school was given a water quality testing mini laboratory. Since this time the EcoClub at the Napareuli public school have continued to take water quality samples on the Lopota River. Since this time, microscope work and chemical testing have become my area of special interest. I can say with pride that the INRMW – Georgia program fostered in me the qualities that are important to all those who will be working in the field of the environment." Sozashvili said.
Irina Popiashvili, a 12th grade student at the public school in the village of Gamarjveba, twice joined eco-camps organized by the INRMW- Georgia program this summer. The first eco-camp was in Green Center Bulachauri in July and the second was at the Tusheti National Park in August. "Participating in these two eco-camps helped me to choose my future profession. After attending some lectures organized by INRMW-Georgia, I realized how my country is prone to natural disasters and how each of us can contribute to stop natural disasters from happening...the knowledge I gained during the INRMW program trainings played an important role in giving me a different vision about the protection and sustainable use of natural resources. Now I am certain that I want to be a journalist working in the field of environmental protection in order to prevent natural disasters from occurring in Georgia." Popiashvili said.
The USAID program INRMW-Georgia has established 38 EcoClubs in four pilot watershed areas in the Alazani-Iori and Rioni basins.
From August 1st-8th, the INRMW program, with the support of the Ministry of the Environment and Natural Resources Protection and the Protected Areas Agency, conducted an eco-camp in Tusheti National Park.