Putin orders to sign border agreement with Georgia's breakaway region
By Ana Robakidze
Monday, September 16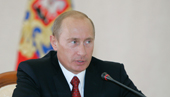 Georgia's Foreign Ministry has officially protested Russia's plan to sign a border agreement with Georgia's breakaway region of South Ossetia.
The MFA of Georgia has sent an official protest note to the Russian Federation through the Swiss Embassy. Deputy Foreign Minister David Zalkania held a special press-conference on September 13th and said that Vladimer Putin's decision to start preparation for a border agreement between Russia and the separatist Tskhinvali region is a grave violation of international law. Therefore the agreement cannot have legal force. "The document, which violates international norms, will be considered invalid," Zalkaliani said.
S. Ossetian authorities requested the signing of the document with Russia. The request was accepted and the President of Russia issued a special decree on signing an agreement with the break-away region of Georiga on September 12th.
The decree instructs the Ministry of the Foreign Affairs to hold negotiations with the de facto government of South Ossetia regarding the agreement. Negotiations will be officialally held and the agrement will be signed in the name of the government of the Russian Federation.
Minister of Reintegration, Paata Zakareishvili, also commented on Putin's decree and said Tskhinvali and Moscow will end up with just a "piece of paper' as similar agreements can never take legal force and will not be recognized by any state. Zakareishvili is more concerned over the environment of the locals in South Ossesia. The minister says similar illegal decissions allways have the worst impact on the people living along the occupation line.
"This is not the first time Russia has made a decision like this, and of course these are illegal actions. There is no border between Russia and South Ossetia. This is a border between Georgia and Russia," he said.
Russian MPs agree with the President's decision and say the new agreement will help to strengthen security at the borders of the country. According to MP Konstantin Zatulin, Russia is signing an agreement with an independent state and the process has noting to do with Georgia.
Georgian experts have already expressed their concern over the situation and hope the government will be able to respond to Russia accordingly. Expert Elene Khoshtaria says it is now important to have a strict political assesment of the situation. According to Khoshtaria, the government has tried to normalize relations with Russia, but regardless, the attempts between the countries have deteroriatted. Khoshtaria said that in order to receive some help from the international comunity it is important to acknowledge the problems Georgia has in relations with Russia.