Interior Ministry reveals suspect in the creation of the "Jihad video"
By Ana Robakidze
Friday, October 4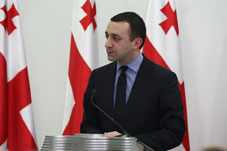 The Ministry of Internal Affairs of Georgia (MIA) has released an official statement on its web-page and announced that an investigation into the "Jihad video" had been successfully completed and a suspect has been revealed.
"As a result of an intensive investigation conducted by the Ministry of Internal Affairs one person has been arrested. Kirghiz citizen Samar Chokutaev, born on March 6, 1989, has been found guilty of the crime. Chokutaev works at a communications company in Sukhumi." the MIA statement reads. Reportedly Chokutaev works as a senior network engineer at Aquafon, a subsidiary of Russian mobile operator Megafon. Aquafon has been operating in the break-away region of Abkhazia since December 2012.
Chokutaev is accused of "Publicly disseminating information that encourages terrorist acts".
Chukutaev published a video titled "Taliban Jihad against Georgian Troops in Afghanistan" on June 4th. The video contained threats against Georgian troops deployed in Afghanistan, their family members and the President of Georgia.
The ministry concluded that the suspect is a highly qualified IT specialist but had no need to retrieve video material from the archives of Georgian TV companies. He simply took material for video editing from the Internet.
The ministry also reports that the crime was committed form the occupied territory of Abkhazia.
In order to mislead the investigation, Chukutaev accessed the internet network of two Georgian private companies by using an encrypted line from a remote server, previously arranged in Malaysia. Thus he managed to publish threatening video from the routers of the private companies and created the impression that the video was filmed in Georgia.
Interior Minister Irakli Garibashvili stated on September 1st that the investigation had been successful and the details would be released at the beginning of October. Information had been kept secret by the ministry for several months and was not even disclosed to the government.
The Head of the President's Administration, Andro Barnovi commented on the ministry's statement and suggested that the MIA's announcement was a lie.
"If the case was solved a month ago, why did they wait this long to reveal the truth?" Barnovi said, before suggesting that the truth behind the "Jihad" video is totally different.
Chairman of the Defense and Security Committee of the Parliament, Irakli Sesiashivili, says the interior ministry has been successful so far, but the investigation will continue. The search for Samar Chokutaev is currently underway in Georgia as well as abroad.