PM and the Cabinet will not participate in the National Security Council session
By Ana Robakidze
Friday, October 11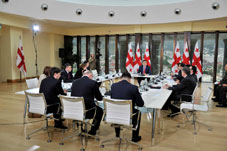 The Georgian government has rejected President Mikheil Saakashvili's proposal to hold a session of the National Security Council (NSC). The president thinks a council meeting should be held to discuss the borderization of the occupation line by Russian troops as well as the Sochi Olympics.
The president's proposal was announced by the head of his administration, Andro Barnovi, on October 9th. "The president thinks that the issues require urgent discussion, so I will convey to the government the president's request to convene the National Security Council on Saturday." Barnovi said.
However, Prime Minister Bidzina Ivanishvili as well as Chairman of Parliament Davit Usupashvili, both described the president's proposal as a "PR stunt". This is the third time the prime minister has snubbed the NSC session. Usupashvili has only attended one meeting since becoming Chairman of Parliament last October.
Usupashvili has even released an official written statement addressed to Barnovi.
"I would like to publicly ask you to convey to the president that by attending the session of the National Security Council I will have to participate in yet another of his PR masquerades which will further discredit our important constitutional institutions and display an unserious attitude towards serious issues." Usupashvili's statement reads.
Secretary of the National Security Council Giga Bokeria says it is alarming that the prime minister and the parliamentary speaker do not want to participate in the NSC meeting to discuss vital issues. "It is regrettable, alarming and incomprehensible to see the government refusing to participate in a business-like discussion concerning the most painful issue for our country and its people." Bokeria said.
Political analyst Ramaz Sakvarelidze agrees with the government's decision. Sakvarelidze thinks it is strange of Saakashvili to call a NSC meeting right before his term in office expires. "This looks like a PR stunt before the presidential election." Sakvarelidze stated.
The NSC session is scheduled for October 12th.