Georgian media coverage generally balanced
By Ana Robakidze
Wednesday, October 23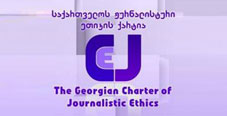 The monitored media continue to provide generally balanced coverage of the campaign and the media continue to follow the principles outlined in the Code of Conduct for Elections, The Charter of Journalistic Ethics, a non-profit professional journalist association said in its second preliminary report on media coverage of the election campaign.
The reports contains fact-finding that covers three weeks of the official campaign period from September 16 to October 10.
According the report, political parties and candidates are offered equal time by TV channels to spread word about their election program. Also, media sources have "decreased coverage devoted to the government and increased the coverage devoted to political parties and candidates (the biggest decrease of the government's share of coverage was noticed on Adjara TV – from 73 percent to 30 percent)."
Media is mostly focused on the Georgian Dream and the United National Movement.
Despite the balanced coverage, The Charter of Journalistic Ethics say that the "monitored media have not provided analytical and in-depth coverage that could help voters to better analyze and assess the qualities and programs of the electoral contestants."
The Georgian Public Broadcaster's first channel (GPB1) and Rustavi 2 devoted about one-third of its political and election-related coverage to the government. Presidential candidate of the Georgian Dream coalition, Giorgi Margvelashvili, and the candidate of the United National Movement (UNM) Davit Bakradze had 12.7% and 17 % respectively of the GPB1 prime-time news coverage.
While GPB1 was mostly focused on the government and the front-runners from the presidential candidates, Rustavi 2 devoted most of its coverage to President Mikheil Saakashvili.
"While the two main candidates received almost identical share of the coverage on Rustavi 2 (29 % respectively), Bakradze received more positive coverage than his main rival. The UNM candidate also received the biggest amount of direct time. The next most covered candidates were the candidate of the Christian-Democratic Movement Giorgi Targamadze (12%) and the leaders of Democratic Movement-United Georgia, Nino Burjanadze (11. 2%).
One more highly rated channel Maestro TV devoted 46. 1 % of its prime-time news coverage to the activities of the government. While TV Adjara devoted only 30% of its prime-time to government related news and it was "it was overwhelmingly neutral."
One more monitored TV channel Kavkasia to the government to 39.4 % and it gave the bulk of its candidates' coverage to Burjanadze (34.8%).
The report concludes that "most monitored media continue to provide generally balanced coverage," and the focus of monitored media has generally shifted from the government to political parties and candidates.