News analysis: Global energy shifts threaten to leave Russia in the lurch
Wednesday, October 23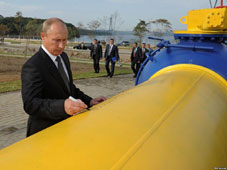 A shiny new liquefied natural gas (LNG) terminal is set to open in the Polish port of Swinoujscie next year.
Three thousand kilometers to the east, Chinese President Xi Jinping leap-frogged across Central Asia in September signing billions of dollars' worth of energy deals with producing countries such as Turkmenistan, Uzbekistan, and Kazakhstan -- as well as with the crucial transit country Kyrgyzstan.
These two developments at either end of an energy network that has been firmly anchored by Moscow for decades are sure signs of a shifting global energy environment that threatens the core of Russia's economic and geopolitical might.
The long-time business model of Russian state energy companies like Gazprom and Rosneft -- which essentially boils down to dictating terms both to isolated energy producers in the Caspian region and to captive consumers in Europe -- is falling apart at both ends.
"There are a number of different shifts that are making the next 10 to 20 years in the global energy environment look very different from the last 10 to 20 years," says Alexandros Petersen, an adviser on European energy-security issues at the Woodrow Wilson Center in Washington, who believes that major changes could be afoot for Russia
To be sure, Russia remains a huge global energy player. It see-saws back and forth with Saudi Arabia as the world's largest oil producer, and it has the largest natural-gas reserves on the planet. It provides about 30 percent of Europe's natural-gas needs.
However, that position is looking far less stable than it once did.
"Over the last 20 years, Russia has to a very significant extent lived off the Soviet legacy of oil and gas investment in western Siberia," says John Lough, an associate fellow with the Russia and Eurasia Program at Chatham House in London. "Those years of relatively cheap exploitation of those resources are coming to an end."
The U.S. Energy Department reported earlier this month that the United States -- with a huge surge in production based on high-tech extraction methods to harvest oil and gas from shale-rock formations -- will surpass Russia as the world's leading combined oil-and-gas producer in 2013.
(Radio Free Europe/Radio Liberty)