Ivanishvili sheds light on future of Georgia and its leaders
By Tatia Megeneishvili
Wednesday, October 23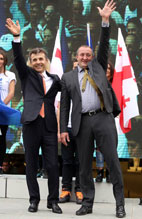 Prime Minister, Bidzina Ivanishvili, gave an extensive interview to the Tbilisi-based Imedi TV, on Tea Sichinava's talk-show on October 21. Ivanishvili's assessment about the past year was very positive. He said that every single promise given to the citizens of Georgia before the parliamentary elections that were possible to fulfill in one year have been delivered. "But there were issues that must be done- some in 2 years, some in 5 and some even in 20 years, and when the past government members talk about unrealized promises, it sounds like nonsense to me," stated the PM.
"No one has the feeling that the government will rig the elections," said Ivanishvili. According to him, everybody have been freed of fear, nobody fears that the police will use violence, nobody fears any longer that he can be arrested or deprived of property.
"We can be really proud of the police today and this was done by Gharibashvili. This was our will. We wanted the police and the Prosecutor's Office to serve the people," stated the PM.
Ivanishvili sees a resemblance between him and the coalition Georgian Dream presidential candidate Giorgi Margvelashvili.
"Giorgi has the same feeling, a feeling of obligation, like me.," said Ivanishvili.
The PM assessed that it may be bad that Margvelashvili has no career aspirations, though when he takes on an obligation, he spends all his energy doing it. "He is working night and day if he undertakes something, even when he is sick, I saw him today with a temperature," Ivanishvili said, adding that Margvelashvili is adherent to principle and he will do what he said he will do.
Ivanishvili thinks that Davit Bakradze, the presidential candidate of the UNM, will be second in election. However, confident that Margevlashvili will receive high public support, the PM thinks that no second round of the election will be needed.
Ivanishvili also made comments about his resignation.
"I think I am going to the right direction, but if people cannot see it or if I am wrong, I will not impose myself on them. For the next 20 years, if I see that the public does not need me anymore, I will apologize to people and stand aside, and there is a probability for this. People, younger and more gifted than me, will come and they will see things in a better way," stated PM.
Ivanishvili talked about the Georgian Minister of Defense Irakli Alasania as well. "I spend a lot of time with him and I want him to get rid of what I disapprove. Nobody is perfect," he said stressing that if he used to spend most of his time with his family, now he is with the ministers.
"I help and correct where I can," PM said. Stressing that Alasania has great experience and many good characteristics, Ivanishvili said he has questions. "And we are working on what I do not like. Confrontation is wrong," he said stressing that the Ministry of Defense works very successfully. The PM said that overall he does not have claims against any ministers.
The PM also talked about de-occupation. "I am absolutely sure that we with our behavior will help the Russian state to understand that the current situation, installing barbed wire fences directly damages its image. They do nothing but damage their state. They establish vague borders, lacking perspectives and are criticized by the world. Statements will be made from all sides and I know that during every meeting, the Russians are reminded of this by Europe and the U.S.
Russia is a big state, they have different directions, different clans," stated Ivanishvili.
When asked if Saakashvili will face criminal proceedings, Ivanishvili responded by saying that he is very cautious as the head of the government to make any tough statement. "I limit myself only with very general remarks," he said, adding that there are multiple cases over which outgoing President Mikheil Saakashvili may face legal prosecution and the death of the former PM Zurab Zhvania in 2005 may be among those cases.
Ivanishvili also said that before his dismissal from government, he will name the candidate on the position of Tbilisi Mayor. He said that he had selected his successor based on the traits of decency and understanding of management. On this statement, present Mayor of Tbilisi, Gigi Ugalava, responded to PM via his official Facebook page. "I thought he said that he was leaving, saying that after that people could decide who they would choose. Mr. PM likes to say "the previous government had made you live in lies." I do not care who sits in Mr. Bidzina's head. It is a fact that has been proved he is avoiding responsibility and enjoys having power. I am not worried about you, but this is very bad for the country," stated Ugulava.