Georgia ready to inaugurate a new president
By Ana Robakidze
Friday, November 15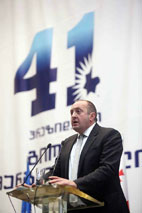 The inauguration of newly elected President Giorgi Margvelashvili is scheduled to take place on November 17th. The oath-taking ceremony will be held in a courtyard of the former parliamentary building in Tbilisi. The government plans to hold a modest inauguration ceremony, at minimal cost.
After the oath-taking ceremony, Margvelashvili will lay a wreath at a memorial of fallen Georgian soldiers on Hero's Square. The official part of the ceremony will be followed by a performance of a Georgian folk troupe and a reception for invited foreign guests.
The Ministry of Foreign Affairs has sent out invitations to foreign dignitaries from approximiately 70 countries and international organizations. However, no Russian representatives will not be among the guests as the countries do not have diplomatic ties at the moment.
Grigory Karasin, the Russian deputy minister of foreign affairs, has also confirmed that his country will not send a delegation to Georgia. In a statement to the Russian news agency Itar Tass, Karasin explained that the lack of diplomatic relations between Georgia and Russia makes it impossible for the Russian Federation to send representatives to attend the inauguration ceremony in Tbilisi. According to Karasin, the current government seems to be more constructive in terms of normalizing relations between the two countries. Karasin said Russia is ready to continue an informal dialogue with Zurab Abashidze, the prime minister's special envoy to Russia.
"We are attentively observing statements made by Georgia's president-elect and they seem quite constructive in terms of normalizing Georgian-Russian relations…they coincide with our vision." Karasin said.
Georgian lawmakers, outgoing President Saakashvili and former President Eduard Shevardnadze have also been invited to the ceremony. However, it is still unknown whether Shevardnadze will attend the inauguration. According to Andro Barnovi, head of President Saakashvili's administration, Saakashvili will be present at the inauguration if the current government gives the office of president proper "respect".
Saakashvili stated earlier in November that that the government's decision not to use the Avlabari presidential palace as a residence for the new president was disrespectful towards state institutions.
"The presidential palace is also a state institution. Government agencies and the constitution are state institutions as well. We have not seen any respect towards the institutions created by us." Saakashvili stated on November 6th.
Many countries have already officially accepted the invitation to attend the inauguration ceremony. OSCE and NATO have informed the Foreign Ministry of Georgia that they will be present on November 17th. The Georgian Foreign Ministry is expecting the Chairman of the Austrian Parliament, the Vice President of Kazakhstan, NATO Special Representative for the Caucasus and Central Asia James Appathurai and other high ranking officials. According to Foreign Minister Maia Panjikidze, the ministry is still waiting for the list of attendees from the U.S.