Eifman Ballet triumphs in Tbilisi
By Salome Modebadze
Friday, November 15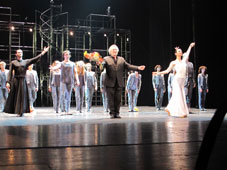 "We have been frequent visitors of Tbilisi for almost 25 years. Unfortunately we don't visit Tbilisi as often as we would like to, but I am very happy that we can show our latest ballet to our beloved audience today." choreographer Boris Eifman told The Messenger after the premiere of Beyond Sin at the Rustaveli Theatre on November 13th.
The ballet, based on Russian writer Fyodor Dostoyevsky's The Brothers Karamazov, focuses on a family with a womanizing father and his three sons who are completely different from one another.
Eifman worries that both Russian and Georgian youths are less familiar with Dostoyevsky than older generations. Praising the "philosophic wisdom" of the Russian writer, Eifman said he hopes such performances will impress Georgian youths with the ideas of Dostoyevsky. "The search for God inside ourselves, the preference between life in tyranny or freedom and the values each person has in life to feel happy, are the questions that affected Dostoyevsky and still trouble us." Eifman said.
Glad that the Georgian audience has welcomed his ballet, Eifman said "our hearts are beating to the same rhythm."
Ani Lagidze, deputy head of the Tbilisi Center of Cultural Events, said the Eifman Ballet of Saint Petersburg has successfully performed at various stages throughout the world, so their appearance in Tbilisi is not surprising.
"I think the Georgian audience is not an exception. The Georgian audience is discriminating and sometimes even too critical." Lagidze told The Messenger. She added that she was very happy about the ballet's reception in the Georgian capital.
The International Foundation of Arts and Intercultural Dialogue presents this unique opportunity with the support of the Georgian Ministry of Culture and Monument Protection, the Tbilisi Center of Cultural Events and DLA PIPER.
The Messenger
was honored to be among the media partners at this unique performance, which was a real master class in adapting a literary work to the stage. The amazing performance of the cast, accompanied by Richard Wagner's, Modest Mussorgsky's and Sergei Rachmaninoff's music, together with amazing lighting and stage decoration created a vivid feeling of reality. "The mystery of the inner life of human hearts and souls of the main characters, where God and the devil are fighting." became very real indeed.
Eifman and his ballet will leave Georgia on November 15th. But the "magic" choreographer wants to bring his Rodin to Georgia in the future.