More in-depth coverage on children's issues recommended
By Salome Modebadze
Friday, November 15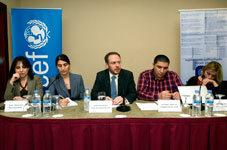 The Georgian media currently covers children-related issues with more care than ever, according to the findings of a three-month media monitoring project called Ethical Reporting on Children. The media monitoring project was carried out by the Georgian Charter of Journalistic Ethics (GCJE) in partnership with the United Nations Children's Fund (UNICEF) Georgia. The project's results were shared with the public at the Courtyard Marriot Hotel on November 13th.
GCJE' specially trained monitors studied over 2000 pieces of TV, print and online journalistic work. The monitors observed all media reporting of children's issues in Georgia over a three month period.
Executive Director of GCJE, Tamar Rukhadze, said most the frequent topics in that period related to criminal cases and the law, while less attention was paid to education, social protection or children's healthcare. Rukhadze emphasized that most journalistic work related to children falls into the "other" category, i.e. it does not belong to any particular thematic group and is usually quite brief.
The monitoring took place in June-September, 2013. Its results revealed considerable progress in the Georgian media in observing ethical standards while reporting on children. However, some problems and challenges remain.
Direct identification of children/youths in conflict with the law, victims of violence or those involved in family drama has become rarer in recent years. The main problems the monitoring process highlighted are: the similarity and uniformity of the news; superficial coverage of children-related issues; using children as objects of charity or advertising; the use of incorrect terminology; interest in private/family dramas and the unchanged use of official press release.
Also cited was the lack of extensive and in-depth coverage of such topics that are particularly important for the welfare of children and that affect their future lives.
Sascha Graumann, UNICEF Representative in Georgia said that children should not only be the part of a story or objects of charity but also should have the opportunity to exercise their rights.
Graumann said that children have the right to be protected. Stressing the role of healthy and educated children for the future prosperity of the country, he said the media should protect their dignity, privacy and rights while reporting as well as monitoring how state policies affect their welfare.
During June, July and August, the GCJE monitored the Georgian media to see to what extent published materials were in compliance with local and international professional standards.
The main goals of the project were to inform the public on how well the media protects children's rights and observes ethical standards; identify and respond to gaps exiting in the Georgian media; and promote the coverage of children-related issues in compliance with professional norms.
GCJE appealed to particular media outlets when monitoring revealed ethical violations. GCJE council chairman Giorgi Mgeladze said media outlets used to immediately dispute and protest monitors' remarks. Now they accept recommendations from monitors and try to correct their mistakes.
According to Mgeladze, there were certain cases when particular materials relating to children related issues were removed from an article or TV newscast because the material violated ethical standards.
Mgelazde hopes long-term media monitoring of children's issues will continue. He further added that this kind of cooperation will positively reflect on the quality of ethical reporting in the Georgian media.
The project consisted of two parts: media monitoring and public discussions of the monitoring results.
Communication Officer of UNICEF Georgia Maya Kurtsikidze stressed the importance of promoting children's interests. Welcoming regular meetings and discussions in the regions during the monitoring, Kurtsikidze said reporting on children is in focus at Georgian universities. Kurtsikidze explained that journalism students are developing a sense of responsibility when reporting on children.
However, she said the media should not only relay information but also provide in-depth analysis of the most important child-related issues. She also stressed the importance of a strong media self-regulation body which will independently continue responding to unethical reporting on children.
As part of the project, GCJE and UNICEF invited experts to analyze and further elaborate on the recommendations made as part of the project.
The media should make sure that no information in any form that is damaging or humiliating to a child should be disclosed, even if the intended dissemination of such information is motivated by kind intentions and a desire to help the child. Sometimes even obtaining the permission of a parent or guardian is not enough reason to disclose information.
The media should provide the public with extensive and more in-depth information not just on current affairs but on the topics and issues that are especially important to children's welfare and affect their future lives. The media should study with special care official information and press releases which relate to children or where children are mentioned before such information is disseminated. Otherwise, instead of highlighting children's problems they may be promoting certain government structures or serving to advertise private persons or companies. Moreover, children should not be involved in such articles and stories/topics that neither relate nor apply to them, for example, politics.
According to media expert Zviad Koridze it is important to raise public awareness in ethical reporting so viewers/readers can determine whether a particular news piece is ethical or not.