Debate about homeless shelter continues
By Tatia Megeneishvili
Friday, November 15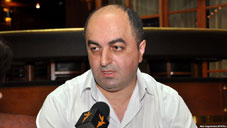 The homeless shelter project initiated by the NGO Identoba has been cancelled. On October 23rd, Identoba made a statement on their website about opening a homeless shelter in Tbilisi. After controversy developed around the issue on November 13th, Identoba released an official statement and announced that the project had been cancelled and work on the shelter would not be continued. The shelter was going to be 80 square meters and was intended to house homeless children.
The Patriarchy of Georgia published an official statement on November 13th. In the statement, Identoba was described as an organization which supports homosexuals and therefore children must not be under its care.
"This can affect their future development. We absolutely share the position of the Ministry of Healthcare. We think that homeless children should be cared for under the ministry's coordination and not by such organizations as Identoba. Identoba threatens the private lives of vulnerable children." the Georgian Patriarchy statement reads.
The Public Defender's Office also released an official statement on November 14th. According to the Public Defender's Office, the United Nations Convention on the Rights of the Child stipulates that government organizations shall recognize the right of every child to be provided with a level of life that is necessary for his or her physical, mental, spiritual, moral and social development. Those signatory countries shall take necessary steps within their means to assist parents and provide children with food, clothing, and housing.
The Public Defender's Office said Identoba's initiative fully complied with the U.N. Convention on the Rights of the Child. The Public Defender's Office regrets the clergy's irresponsible statements which resulted in the project being cancelled and which might encourage violence against Identoba. The Public Defender's Office will examine the case and take appropriate steps to ensure that violence does not occur.
The Public Defender's Office urges the Georgian government and Tbilisi City Hall, in light of the approaching winter, to take immediate steps to arrange temporary shelters for homeless people on the streets. Shelters will minimize the risk of people becoming seriously ill or dying as the result of cold weather.