New cabinet receives a vote of confidence from Parliament
By Ana Robakidze
Friday, November 22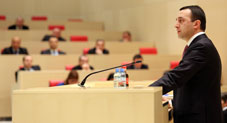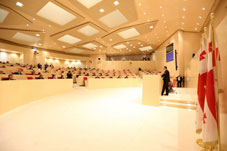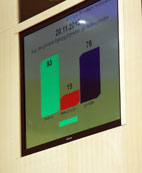 The Georgian parliament approved a new cabinet with 93 votes at a fast-track hearing on November 20th. The United National Movement (UNM) opposition party voted against the new cabinet. Opposition MPs had announced prior to the session that they would not support prime ministerial candidate Irakli Gharibashvili and his government.
After the vote, chairperson of the parliament Davit Usupashvili signed the summary document and sent it to President Giorgi Margvelashvili. Margvelashvili signed the decree appointing Gharibashvili in the post of PM, shortly after Parliament gave a vote of confidence to the cabinet.
Margvelashvili also issued a letter of congratulations.
"I congratulate Prime Minister Irakli Gharibashvili and members of the new government of Georgia on being granted the trust of the parliament of the country. I would like to wish the government success in their endeavors for the progress and the prosperity of Georgia and its citizens." the president stated in the letter.
The extraordinary session of parliament lasted for several hours. The incoming prime minister addressed lawmakers and presented the new government's program. In his speech, Gharibashvili thanked his predecessor Bidzina Ivanishvili for his trust and promised to maintain the unity of the coalition.
"I promise to preserve the strong unity that you created in the form of the Georgian Dream coalition. I promise the Georgian people that we will faithfully and honorably continue the work started by you and we will serve our people and our country. Thank you very much!" Gharibashvili stated.
After Gharibashvili's speech, a question and answer session was held. Unlike the usual debates between the majority and the opposition, when discussions quickly devolve into mutual accusations, the session on November 20th was more constructive and lacked criticism. Instead, MPs focused on issue-based questions.
UNM MP's had specific questions about the new government's program. MPs focused on the government's plans on improving economic stability and possible legislative changes that may hamper improvement in the investment climate. MP's had questions regarding privatization procedures and Georgia's chances of gaining a comparative advantage in the regional and global economy.
Answering questions about Georgia's economic downturn, Gharibashvili stated that one of the main reasons for the economic slowdown was the period of tense political cohabitation. "Our team is efficient enough, so we will resolve these problems very easily," he stated and advised the UNM to refrain from portraying Georgian economy too negatively, as it might scare off foreign investors.
Gharibashvili was asked questions about the country's foreign policy and the way the government is going to handle pressure from Moscow. The prime minister replied that Georgia's foreign policy is determined by the Georgian people. Gharibashvili stated Georgia will continue "the right path" towards the EU and NATO, even if Moscow intensifies its pressure on the country.
Prime Minister Irakli Gharibashvili named the new government with only one change in the cabinet. Alexander Chikhaidze has replaced Gharibashvili as Interior Minister.