Ukrainians try to defend their European future
By Ana Robakidze
Tuesday, November 26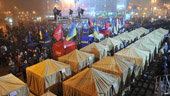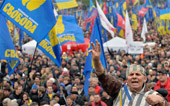 The largest protest in Ukraine since the 2004 Orange Revolution took place in Kiev on November 24th. Approximately 100,000 people gathered in the center of the capital to protest against the government's move to delay an association deal with the EU, a move largely seen as a result of pressure from Russia. Protesters even tried to break into government buildings. However, a police cordon stopped them by firing tear gas.
Many Ukrainians found the government's decision to tighten ties with Moscow, rather than with the EU, to be outrageous. People have been protesting in Kiev for two days now.
Opposition leader Arseniy Yatsenyuk said that the Ukrainian public should not let the government destroy Ukrainian dream and hopes "for a better and brighter European future."
Russia used its entire economic lever to pressure Ukraine into backing out of the EU Association Agreement. Russia is the largest market for Ukrainian companies and its main gas supplier. In exchange for withdrawing from the EU Association Agreement, Moscow agreed to review its contract on supplying gas to Ukraine.
Ukrainian Prime Minister Nikolay Azarov stated that an official agreement still has to be reached with Russia.
President Viktor Yanukovich's decision to delay Ukraine's signing of the EU Association Agreement has caused great consternation within the European community and sparked questions over Georgia and Moldova, members of the Eastern Partnership together with Ukraine. At the Vilnius Summit later this week, both countries will sign the EU Association Agreement.
Within a day of Ukraine's decision to delay signing the EU Association Agreement, high ranking officials from both Georgia and Moldova made statements once again reaffirming their commitment to EU integration and confirmed that they would withstand any outside pressure that may occur on the way to EU membership.
Ukraine may serve as a good example to the Georgian government. The authorities have decided to be more careful and consider all possible threats Georgia may face in future. According to the Deputy Minister of Foreign Affairs, Davit Zalkaliani, Yanukovich's decision is deeply regrettable and Georgia will examine and consider the reasons that has brought Ukraine to its current state of affairs. Meanwhile the country is preparing for the Vilnius Summit and for even stronger cooperation with the EU. The Georgian government plans to finalize the process and sign the full agreement in 2014.
Georgian President Giorgi Margvelashvili will head the Georgian delegation at the Vilnius Summit. According to his advisor Vano Machavariani, the Georgian president will meet his French and Polish counterparts, as well as the prime minister of Estonia and possibly Germany's chancellor Angela Merkel.
Georgia and the EU are planning on signing another agreement at the Vilnius Summit. Georgia is joining the EU civilian missions and military operations. According to the Georgian Foreign Ministry, an agreement will be signed by Georgian Foreign Minister Maia Panjikidze and Catherine Ashton, EU High Representative on Foreign Affairs and Security Policy and the Vice-President of the European Commission.