Ivanishvili retires on the eve of the Vilnius Summit
By Messenger Staff
Tuesday, November 26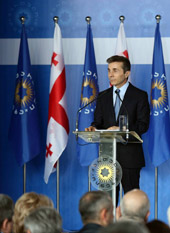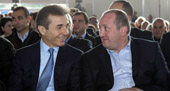 Just before a very important step for Georgian statehood, the signing of the initial agreement with the European Union (EU) at the Vilnius Summit of the Eastern Partnership (EaP), Georgian Prime Minister Bidzina Ivanishvili retired from the political scene.
Before he resigned, there was speculation about who would lead the Georgian delegation to Vilnius. There were hopes that newly elected president Giorgi Margvelashvili would lead the delegation with Ivanishvili. However, Ivanishvili resigned on November 20th and the delegation will be headed by Margvelashvili, while new Prime Minister Irakli Gharibashvili will stay in Tbilisi.
Whoever leads the Georgian delegation, one thing is certain: Georgia wants to join the European family of nations. The country's new leadership is determined to pursue this goal.
Despite Ukraine's decision to suspend its strive towards Europe and not sign the associated membership document with the EU, Georgia is moving ahead with European integration. Meanwhile, Russia continues to advocate the Eurasian Union, a Russian-led customs union for former Soviet countries. Moscow is trying to get Georgia to join but this will certainly fail.
If Russia were to offer Georgia the return of Abkhazia and South Ossetia in exchange for Eurasian Union membership, then it might tempt Georgia to forgo its European aspirations. The Georgian public would demand that instead of Georgia signing the EU associated membership, the country should reintegrate its lost territories. But no! Russia wants to disintegrate Georgia, and make it on its crawl on its knees to the Russian Empire.
Of course, Russia will do everything possible to prevent Georgia from joining the EU. Meanwhile, everybody in Georgia, including the current government, the parliamentary opposition as well as the majority of the public, want Georgia to sign the initial document on associated membership with the EU later this week in Vilnius.