Khaduri says UNM should "take care of itself"
By Messenger Staff
Tuesday, December 17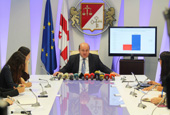 Georgian Finance Minister, Nodar Khaduri, advised the United National Movement (UNM) to "take care of itself."
"The UNM would have better taken care of its own debts," Khaduri said, stressing that the UNM had taken $500 million as "absolutely stupid debt."
The UNM believes that the government's proposed budget includes a very large volume of debt that is to be paid by future generations. According to the UNM Political Secretary Zurab Japaridze, one-year ago his party warned the government that the wrong economic policy would result in problems in the economy and budget.