State Comission sets main goals for the EU and NATO integration process in 2014
By Ana Robakidze
Thursday, December 26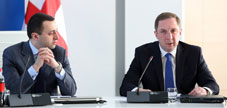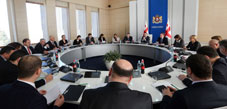 The Commission on the Integration of Georgia into the European Union held a session at the Chancellery of the Government of Georgia. The session was chaired by the Prime Minister Irakli Gharibashvili on December 24.
The Comission discussed urgent issues in relations between Georgia and the European Union.
The Comission approved the 2014 Action Plan as part of the 2014-2017 Strategy of the Government of Georgia for Communication and Information on European Integration. The strategic plan aims for the popularization of the EU in Georgia and to provide citizens with detailed information about the benefits of integration with the EU.
The state strategic plan is based on three main principals: education, information, and supporting EU integration.
"The Georgian people have to be informed on what the EU integration actually means. Within the state strategic framework, we plan plenty of activities, including conferences, seminars, and forums for target audiences," Minister of Foreign Affairs of Georgia Maia Panjikidze said after the comission meeting.
According to the State Minister on European and Euro-Atlantic Integration Aleksi Petriashvili, EU integration is a choice the Georgian people have made and there should be no obstacles to this process.
A similar meeting of the State Commission of Georgia on NATO Integration was held a day earlier on December 23rd at the State Chancellery.
The commission members discussed the NATO Assessment Document of the 2013 Annual National Program, as well as the priorities of the 2014 Annual National Program. Major priorities and preparation work were also defined at the meeting, as the government is preparing for the upcoming NATO Summit in the United Kingdom. Petriashvili stated at the Comission meeting that the year 2013 was very successfull in terms of appraoching NATO. He announced that the Annual National Program implemented by the Georgian Government in 2013 had been assessed by NATO as the best performance in the past five years.
"The annual national program implemented by the Georgian government was assessed by NATO as the best one in the last five years. Currently the work is underway on six projects and we were discussing this issue," Petriashvili said.
"And the next plan of cooperation with NATO for 2014 will be paramount. It can even be said the plan will be excessively loaded... Accordingly, we hope that with the implementation of this plan, our relations with NATO will be further reinforced and strengthened. It is natural that we are expecting much progress," The chairman of the Parliamentary Committee on Defense and Security, Irakli Sesiashvili, said at the meeting.