Officials fail to approve Tbilisi city budget
By Ana Robakidze
Tuesday, December 31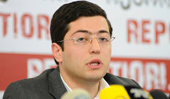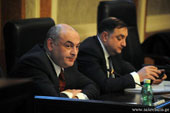 Tbilisi City Council failed to approve the city budget for 2014. Seven hours worth of debates turned out to be unsuccessful.
The draft budget, which amounts to 785 million GEL in total was prepared by the United National Movement (UNM) opposition party. However, the council majority, which is mainly presented by the members of the Georgian Dream Coalition, did not approve the draft, as they considered it being aimed at the growing influence of the UNM.
"You are planning to spend the city budget in favor of your partial interests," the head of the faction Georgian Dream Democratic Georgia, Zaza Gabunia addressed the council members from the UNM.
The disagreement between council members was caused by the principle of the funds distribution in the budget, as well as budget priorities defined by the city government. The majority neither approved the programs on the development of the transport infrastructure, voucher program, social benefits, and preferential fees on public transport. The draft included funds allocated for all mentioned programs.
Chairman of the City Council, Irakli Shikhiashvili, suggested postponing the voting for about a month, though the council members still decided to vote. He offered to use some more time for improving the shortcomings in the draft through negotiating with the city government. However, the council decided to vote and failed to approve it.
The budget requires at least 24 votes in favor for it to be approved. In the City Council, 21 delegates voted against the draft, while 18 voted in favor.
After the debates Shikhiashvili said that despite the fact that the council could not approve the city budget, Tbilisi residents do not have any reasons to be worried, and the city continues to function normally. According to the Chairman of the City Council, the Tbilisi Government has around 60 million GEL in possession before the new budget is approved.
A new version of the budget should be submitted to the City Council within the next month. In the case the city council fails to confirm the 2014 budget by March 11, the president has the right to dissolve the council.