Usupashvili: Signing AA with EU is Top Priority
Monday, January 6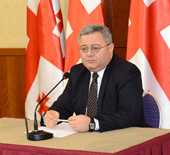 Parliament speaker Davit Usupashvili said on December 30 that the signing of the Association Agreement with the EU will be the top priority for next year and all the other issues will largely be shaped by this priority.
"Personally for me the main political priority is to achieve the signing of the Association Agreement with the European Union," Usupashvili told journalists at a news conference on December 30. "Personally my positions, actions or inactions over various issues will be very often determined by this priority. And I am ready to be more flexible over many issues in order for the country to be able to achieve this very serious goal."
He said that in the foreign policy the Georgian authorities achieved in 2013 "maximum of what was possible" and noted in this context initialing of the Association Agreement with the EU at the Eastern Partnership summit in Vilnius in November.
Usupashvili also said that relations with Russia have "not worsened significantly", but also added that ties have not "improved significantly" either in 2013.
"A slight progress related to restoring trade ties with [Russia] is a step in right direction, but it's not enough," the parliament speaker said, adding that installing of fences and other barriers across the administrative boundary lines of the breakaway regions by the Russian troops was a negative development.
He said that "tough road" lies ahead before Georgia signs the Association Agreement with the EU, planned for August, 2014.
(Civil.Ge)