Controversy over the Christmas epistle
By Ana Robakidze
Thursday, January 9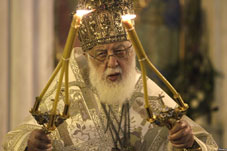 Public Defender of Georgia Ucha Nanuashvili commented on the Christmas epistle and said that considering the significant influence Patriarch of Georgia has on the society, messages from the epistle may appear to be very risky. Nanuashvili focused on the part of the epistle where Ilia II speaks about family values, abortion, surrogacy and in vitro fertilization. It was said in the epistle that children born through surrogacy or in vitro fertilization may be troublesome and their lives not happy, "doomed to be deprived of love and doomed to loneliness from the very beginning."
The Public Defender thinks that similar statements may encourage discrimination against children born through alternative methods of fertilization.
"It is important to consider the condition of families that are preparing to have a child or already are raising a child born through a surrogate mother or in vitro fertilization. It is regrettable that the author of the epistle text failed to consider interests of these people and the pain they would feel." Nanuashvili said, and advised the church to be more careful and attentive while discussing similar sensitive issues.
The epistle has sparked controversy among society. People who disagree with the patriarch say everyone has the right to become a parent of their own biological child and adoption should not be the only option for them.
Ana Abashidze, UN expert in women rights fears that the epistle caused separation of a specific group of children, who may become victims of discrimination in the future, especially in a country like Georgia, where as Abashidze says children rights are not protected.
Human Rights defender, Dimitri Lortkifanidze calls the society to be less radical and try to understand the messages from the church in a wider spectrum.
Representatives of the church say the epistle was never intended to discriminate against a specific group of children, but the message was sent to those doctors and other individuals who are involved and work in surrogacy and in vitro fertilization.
The Patriarchate of Georgia made a special statement on the epistle and said that the church opposes only the artificial method of childbirth and not the children themselves. Archbishop Theodor who read out the statement at a specially organized press conference said that the children born through surrogacy or in vitro fertilization are accepted by the church as any other child is; furthermore such children are amongst the godchildren of the Patriarch.
"The church confirms its respect to the freedom of choice of every individual." The statement said. However, the church keeps its right to point out the "wrong" actions in the society and warn its parish about the consequences.
Minister of Health and Social Affairs of Georgia, Davit Sergeenko, met with journalists on January 8th. Amongst various issues related to his ministry, Sergeenko also spoke about the surrogacy and the Christmas epistle. The minister said the experts who advised Ilia II on surrogacy and in vitro fertilization had to provide the patriarch with more detailed information on the matter.