Interim investigation raises questions
By Ana Robakidze
Thursday, January 16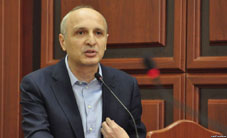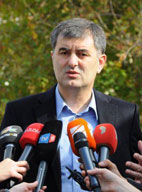 The Ministry of Corrections and Legal Assistance of Georgia released a special statement revealing the results of the interim investigation carried out after former Prime Minister Vano Merabishvili, who is currently in pre-trial detention, declared he was taken away from his prison cell to an unknown place where he was met by the former Chief Prosecutor Otar Partskhaladze in December 2013.
The ministry declares that around 377 GB of video footage, recorded from 18 surveillance cameras installed on the premises between the 9th prison and the prison department, was seized and examined according to the request of the General Inspection. However, no suspicious facts or violations could be found during the investigation process. None of the questioned employees of the facility questioned proved Merabishvili's statement.
The statement also reveals that the video material recorded is automatically deleted after 24 hours. Therefore, it was impossible to examine the material. The info contradicts the earlier statement made by the ministry claiming that video material is usually stored for 10 days.
The ministry, as well as Minister Sozar Subari, has been repeatedly accused by the United National Movement (UNM) in destroying video footage that could have proved that Merabishvili was taken from his prison cell.
Merabishvili's lawyer, Davit Khazhalia, commented on the results of investigation and said they were predictable and the ministry managed to achieve its goal in falsifying Merabishvili's statement.
The UNM continues to accuse Subari in destroying video material. UNM leader Goka Gabashvili said Subari and his staff have destroyed the evidence, in an attempt to cover up a crime committed against Merabishvili.
"This is a case when the creation of a special investigation commission becomes essential," Gabashvili said. The UNM MP also added that Minister Subari should leave his post as he "with great probability" took part in the destruction of the evidence, while everyone involved in this process should respond according to Georgian laws.
Public Defender Ucha Nanuashvili agrees that the case requires a comprehensive investigation and it should be carried out not by the ministry, but by the prosecutor's office.
"I am aware of the statement made by the Ministry of Corrections and Legal Assistance. However, I believe questions regarding the case still remain. Therefore, we reiterate the importance of starting an investigation," Nanuashvili said.
Chairman of the Georgian Young Lawyers Association (GYLA), Kakha Kojoridze says the Ministry of Corrections makes controversial statements and an investigation is definitely required.
"I remember Subari making a statement and informing us that the video footage is stored for 10 days. The recent statement says the material gets destroyed after 24 hours. Therefore, there are questions to be answered. We have to know which of the statements made by the ministry was correct," Kojoridze said in his TV interview.