PACE Co-rapporteurs will report on Georgia in April
By Ana Robakidze
Friday, January 17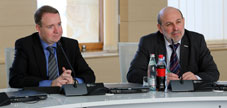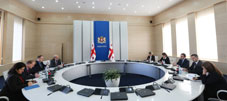 Co-rapporteurs of the Parliamentary Assembly of the Council of Europe (PACE) Michael Aastrup Jensen and Boriss Cilevics left Georgia. At the end of their visit, European delegates gave a press conference summarizing their three-day visit to Tbilisi.
The co-rapporteurs said they were leaving Tbilisi with some concerns about allegations of the former Prime Minister Vano Merabishvili, the suspension of Gigi Ugulava from the post of Tbilisi Mayor, the Municipal Government reform and repatriation of Meskhetian Turks.
"Even today we do not have a clear image of what has actually happened," Jensen said, referring to the statement Merabishvili made about a month ago and announced that he was kidnapped from his cell in detention facility 9 in the middle of the night and taken to an unknown place where he was met by the former Chief Prosecutor … trying to blackmail him.
Jensen remains concerned over the fact that the government was unable to clearly explain whether the video footage form surveillance cameras installed in the detention facility is available or not and whether they can be examined. "I believe there must be more clearness about what video footage is kept and for how long they are usually kept," Jensen stated.
Speaking about the suspension of Gigi Ugulava from the Tbilisi Mayor's post, Jensen said no one should be exempt from responsibility. However, the court should be more careful with its decisions about elected officials.
The co-rapporterus are going to follow-up the developments around Merabishvili and Ugulava's cases and will publish updates in their report on Georgia, which shall be submitted in April of 2014.
At the press conference Cilevics spoke about the repatriation of Meskhetian Turks and self-government reform.
He said repatriation of Muslim Meskhetians still remains an obligation Georgia has not fulfilled yet.
"Despite the fact that the law has been adopted, its implementation process is unfortunately too slow," Cilevics said.
Answering the questions about Georgia-Russian relations, the co-rapporteurs said that the Council of Europe keeps the same position and will continue to demand from Russia the fulfillment of its obligations under the Six-Point Ceasefire Agreement. Though, PACE delegates admitted the progress in this direction has little success. Construction of a barbed wire fence along the occupation line is not the only serious violation from the Russian side
During their visit to Georgia, PACE delegates had meetings with the President and Prime Minister, Public Defender, lawmakers, and members of the cabinet.
The co- rapporteurs also met with Patriarch Ilia II. Jensen said the meeting was very interesting and they intend to continue communications in future.
Cilevics and Jansen announced that their report on Georgia will be prepared based on their regular monitoring mission to the country. The PACE co- rapporteurs will return to Georgia in spring.