Georgia responds to the political crisis in Ukraine
By Ana Robakidze
Friday, January 24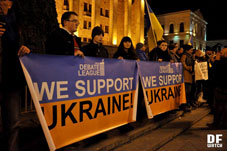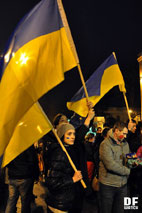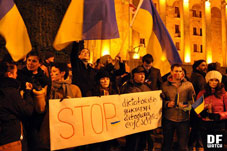 According to the international media, three protesters were killed in Kiev during the clashes on January 22. The situation in Kiev escalated after police moved in to dismantle a protest camp. Prime Minister Mykola Azarov denied all the allegations that riot police are responsible for the deaths.
Georgian Prime Minister Irakli Gharibahsvili hoped in his special statement issued on Wednesday that "our Ukrainian friends are capable of solving political issues pertinent to the country's democratic development through peaceful negotiations.
"We are deeply concerned over the casualties resulting from the events in the streets of Kiev. We express our deep sorrow over this fact. We condemn any violence," he said.
In his TV interview in Davos, where he attends the World Economic Forum, Gharibashvili said unlike his country, Ukraine is highly dependent on Russia, and it is not a surprise that Moscow has put great pressure on the country.
"European integration is a choice of our government and it is backed by the will of the Georgian people," the PM said. He also added that Georgia expects future provocations from the Russian side. However, Gharibashvili is confident Russia will not be able to make Georgia suspend relation with the EU, as it managed to do in Ukraine.
President of Georgia Giorgi Margvelashvili fears that Ukraine may face a humanitarian catastrophe in the case the situation is not de-escalated quickly. "We would like to call on both side to protect the most valuable-human life and unity of the country," Margevlashvili said.
"The Georgian Foreign Ministry calls upon both the Ukrainian Government and the protesters to refrain from violence, and hopes that Ukraine - a country with which Georgia has traditionally had friendly relations, and with which Georgia successfully cooperates with in both bilateral and multilateral formats, will be able to lower the tensions through dialogue with due regard for the interests of both Ukraine and the Ukrainian people."
Georgian opposition party United National Movement (UNM), which is a partner party to the Ukrainian opposition UDAR party, says the freedom of Ukraine is the freedom of Georgia.
"It is our duty to express full solidarity to the Ukrainian people's aspiration towards the family of European nations founded on freedom, rule of law and human rights. Georgia should do its utmost to resist any attempt of dragging Ukraine into Putin's Eurasian Union," the UNM statement says.
Later on January 22 people gathered on Rustaveli Avenue in Tbilisi to express their support towards the Ukrainian people.
Catherine Ashton, the EU's foreign policy chief, issued a special statement condemning the violence and said that the use of force cannot be an answer to the political crisis. State Department spokeswoman, Marie Harf, said the U.S strongly condemns the violence and urges all sides to immediately de-escalate the situation.