A man proving the human's unlimited abilities
By Mariam Mchedlidze
Friday, January 24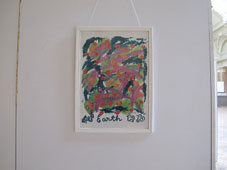 An abstract, inspirational artwork collection created by the Indian spiritual master Sri Chinmoy can be seen at the National Library of the Georgian Parliament. A large lightened room full of Chinmoy's mystical paintings and meditation music will be open until January 27.
The idea of familiarizing Georgian people to Jharna-Kala belongs to Dimitri Saralidze. He fulfilled the desire by having Sri Chinmoy's artwork brought to Georgia. He contributed to familiarizing the exhibition viewers with a man who demonstrated his endless fountain of imagination and unlimited possibilities.
The sense of freedom in his paintings is created by his spontaneous way of drawing. Chinmoy used to follow his soul while having his thoughts and feelings expressed on paper. He started drawing with a simple rose that in later years transformed into different forms including birds.
The artist explains the importance of his work on Soul Birds saying that: "For me, birds have a very special significance on a spiritual level. They fly in the sky, and the sky is all freedom. So when the birds fly in the sky, they remind me of the soul's infinite freedom. The soul has come from Heaven. When we think of birds, we are also reminded of our Source, and this gives us enormous joy."
His wish had been the links of nature and human beauty to be found in one's soul. Sri Chinmoy tried to perceive it through the things around him as he thought that aesthetics of discovering beauty is the art's only function.
It is difficult indeed to say in which sphere Chinmoy was better. His creative work is not just limited to paintings. The spiritual master has left his name in literature too. His poems have been translated into more than 24 languages. The way of creating music also follows the ideological path for becoming free and discovering one's spirit. He has written more than 18,000 songs and used to perform at Peace Concerts all over the world for free. He was able to play on 115 different musical instruments. In addition to being the founder of many meditation centers, he is also an active sportsman trying to break all human limits. A unique award created by him betokens lifting the world's honored people on the platform by him including three Georgians: Zurab Tsereteli, Kakhi Kaladze and Shalva Amonashvili.
About 2004 viewers of the Jharna-Kala exhibition will believe that Sri Chinmoy has a well-deserved place in the list of people who contributed to the world's harmony.