Vano Merabishvili sentenced to five years imprisonment
By Ana Robakidze
Tuesday, February 18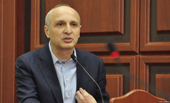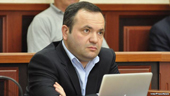 The city court of Georgia found former Prime Minister of Georgia Vano Merabishvili guilty and sentenced him to five years in prison. Merabishvili who insists that he is innocent and that the cases against him are politically motivated, was found guilty in the abuse of office, the bribery of voters, the inefficient use of budget funds and the infringement of inviolability of property rights (Merabishvili misappropriated a seaside villa from its owner.)
The court also decided that the time Merabishvili spent in pre-trial detention will be considered and he will be imprisoned for 4 years, 3 months and 4 days. Once he is released, Merabishvili will be banned from taking a post of a state official for 18 months. Merabishvili's attorneys say the court decision will be appealed.
In both of these cases Merabishvili was also charged by the prosecution with exceeding official powers, but the court dropped those charges. Therefore, the office is going to appeal the verdict.
The prosecutor's office said on February 17 that it will appeal the part of the verdict by which some charges were dropped from Merabishvili and by which Tchiaberashvili was acquitted of the misspending of funds and the bribing of voters charges.
Former Healthcare Minister Zurab Tchiaberashvili, who was a co-defendant with Merabishvili in one of the cases, was found guilty of neglecting official duty and fined GEL 50,000. Tchiaberashvili was acquitted of misspending funds and bribing voters. Chiaberashvili claims he is not guilty and will appeal the verdict.
The verdict was immediately condemned by the United National Movement. The members of the opposition party say their secretary general, Merabishvili is a victim of political persecution. "It is obvious that the judge failed to withstand pressure from the government," Giga Bokeria of the UNM said, after the court announced its verdict in Kutaisi. He said the verdict is an example of how justice and democratic traditions failed in Georgia.
One of the leaders of the UNM and former Tbilisi Mayor Gigi Ugulava, said the verdict is "shameful" and it has nothing to do with executing justice.
One of the prosecutors, Ketevan Chachava, disagrees with the UNM and says the evidence provided to the court was strong enough to find Merabishvili guilty on a number of charges.
Members of the Georgian government have already commented on the verdict and praised the court for being independent and neutral. Vice PM of Georgia Kakha Kaladze said the court is neutral and serves the process of restoring justice in the country.
"No one can stand above the law. It does not matter what official posts people were holding; all are bound by the law." Kaladze said.
The former PM is still standing trial over several other separate charges. The prosecutor's office is charging Merabishvili in the abuse of office, when he held the post of Interior Minister. The prosecution believes that he took a series of premeditated actions aimed at covering-up evidence in an attempt to obstruct justice into the murder of Sandro Girgvliani in 2006.
Merabishvili also faces charges in connection with breaking-up a protest rally in Tbilisi on May 26, 2011. The rally was lead by former Parliamentary Speaker Nino Burjanadze. In this case Merabishvili is accused in exceeding official powers with aggravated circumstances.