Georgian PM kicks-off official visit to Washington
By Ana Robakidze
Tuesday, February 25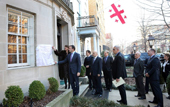 Prime Minister of Georgia, Iarkli Gharibashvili has arrived in Washington and started a week long official visit in the United States.
He began his visit at the new Georgian Embassy to the US and participated in the opening ceremony.
"It is a great opportunity for Georgia to present itself in the U.S. positively following the democratic elections in the country where the transition of the authority had been held in a peaceful manner. During the high level meetings (in the U.S) it will be possible to deepen the cooperation between the two countries and discuss the issues in the regional framework, as well as the Ukraine crisis," U.S Ambassador to Georgia Richard Norland said, who also visited the new embassy building.
"We plan to discuss our internal policy as well as foreign affairs priorities," Foreign Minister Maia Panjikidze said in Washington. According to her, the major topic will be the Euro-Atlantic integration of Georgia and relations with Russia.
The PM and his governmental delegation have high level meetings planned at the White House. Gharibashvili will also meet the U.S. Secretary of State John Kerry, after which the Prime Minister of Georgia and U.S. Secretary of State will open a plenary session of the U.S.-Georgia Charter on Strategic Partnership. Garibashvili and John Kerry will deliver speeches to the participants of the session.
The meetings are planned with American senators and congressmen, Chief Executive Officer of "Millennium Challenge Corporation" Daniel Johannes, the heads of the Atlantic Council, World Bank Group President, officials of the American Chamber of Commerce, the U.S. Center for Strategic and International researchers, Representatives of the National Democratic Institute (NDI), as well as American businessmen within the working visit to the US.
The Georgian delegation includes the Minister of Foreign Affairs Maia Panjikidze, First Deputy Minister of Foreign Affairs Davit Zalkaniani, the Minister of Economy and Sustainable Development, Vice Prime Minister Giorgi Kvirikashvili, State Minister for European and Euro-Atlantic Integration Alex Petriashvili, head of Investment Agency Giorgi Pertaia, the head of Economic Council of the Government Council Roman Chkhenkeli, and the Chief Deputy of the Government Chancellery Nino Kobakhidze.
The visit of the Georgian governmental delegation to the U.S will end on February 28.