Tbilisi budget for 2014 is finally approved
By Ana Robakidze
Monday, March 10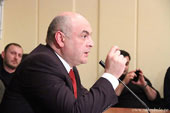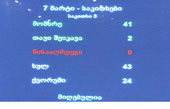 Tbilisi City Council finally approved the city budget for 2014. After several weeks of consultations and twice voting down the draft proposed by the Tbilisi City Hall, the Sakrebulo confirmed the budget on March 7th.
Under Georgian legislation, the council had to approve the budget by March 11, otherwise, both the city's executive government and the elected council would have been dissolved, and the central government would have taken over the management of the capital.
The Georgian Dream Coalition (GD), which holds a majority in the Sakrebulo opposed the draft budget proposed by the mayor's office, citing the budget was not transparent and it was planned to be used for United National Movement's (UNM) party and political interests.
The UNM and the City Hall argued that GD was deliberately voting the budget down, trying to take over the municipal government through imposing the direct rule of a central government.
On March 6th the acting chairman of the Sakrebulo, Irakli Shikhiashvili, said the budget has to be oriented on the city residents. The final version of the budget imposes regulations on the city hall of the capital and limits its power to control budget expenditures.
"We did not allow and did not approve the budget, which needed the former and accused [Mayor Gigi Ugulava] for spending. That is why after many days of hard work, the Tbilisi Sakrebulo drafted its own version of the budget. In this project we took into account all the regulations, which will make it possible to control budget expenses," Shikhiashvili stated.
The two sides were able to reach an agreement after intense consultations. According to the Deputy Mayor, Papuna Petriashvili, the parties managed to hold constructive talks and elaborated the final version of the draft. Although, there were some provisions in the draft on which the mayor's office disagreed.
"This document ensures that no one will be able to spend budgetary funds for party purposes," Shikhiashvili said.
785 million GEL is the city budget for 2014. 88.713 million GEL is designated for the construction of transport infrastructure and 156.45 million GEL for the construction and repair of infrastructure facilities and damaged buildings. The city will spend 69.5 million GEL on improvement of ecology, 12.5 million on economic development and 186.673 million GEL on healthcare issues.