Tbilisi hosts the 2nd Israel-Georgia Innovation Forum
By Ana Robakidze
Thursday, March 13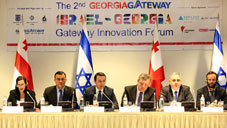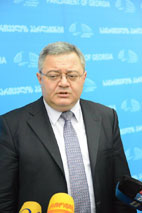 The 2nd Israel-Georgia Innovation Forum was opened in Tbilisi on March 12. The two-day event is being held with the support of the Israeli business sector and the Partnership Fund (PF), a state-owned shareholding company in Georgia.
Communications, innovations and modern technologies are set as the main directions of the forum for 2014. The following Israeli companies working in communications and innovations have sent their representatives to Tbilisi: Ness Technologies Ltd, Mobile Tornado Group, Plasan SasA Ltd, Audio Codes Ltd, Pine App Ltd, Top Image Systems Ltd, A.R.I. Flow Control Accessories Ltd, Top Implants Ltd, Solcon Industries Ltd.
Roundtable discussions will be held as a part of the forum to provide Israeli companies with information on the business and investment climate in Georgia. Also face-to-face meetings of various business groups are planned.
Georgian Prime Minister Irakli Gharibashvili said in his opening speech that Georgia offers investors an excellent location and access to a large market.
He highlighted Georgia's exceptional geographic location and noted that the Generalized System of Preferences with eight countries, including the U.S., the Deep and Comprehensive Free Trade Area the government plans to sign with the EU in September 2014, and the Free Trade Agreement between the Community of Independent States and Turkey. All of these enable the country to offer a $900-million market to investors. The PM also stressed that Georgia provides large opportunities for the companies interested in investing in the growing areas of hydropower, tourism, industry, regional services, logistics and agribusiness.
Gharibashvili stressed that the rule of law and the protection of private property are the government's top priorities, and it spares no efforts to turn Georgia into one of the most business-friendly countries.
"As you know, work on the Georgia-Israel Free Trade Agreement is underway, and I am sure we will achieve excellent results in the near future. Investors in Georgia can enjoy the following benefits: a strong sovereign balance sheet, a liberal tax system - only six flat taxes at low rates; a conservatively managed banking sector; developed transport infrastructure for trade, logistics and manufacturing, stable and competitively priced energy supply and a skilled and competitively priced labor force," PM said.
Gharibashvili promised the business representatives that as the head of the Georgian government, he can guarantee a fair, transparent and safe investment climate and the protection of the invested funds.
The Georgian government is trying to improve the business environment on the legislative level. Speaker of the Parliament Davit Usupashvili met with Georgian business representatives on March 12th and discussed the possible amendment to the law. Giorgi Chirakadze, President of the Georgian Business Association said before the meeting that the Law on Competition is the major issue for Georgian companies. Usupashvili promised that he and his office will start intensive consultations with the association to improve the business legislation in the country.