Audio books now available for visually impaired
By Salome Modebadze
Wednesday, March 26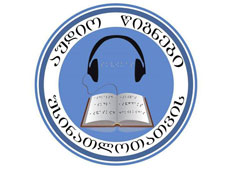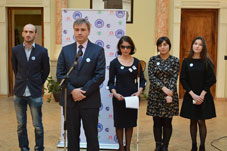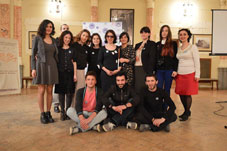 2014 is the year of literacy. A lot of activities will be carried out in Georgia to promote reading. Not everyone can read books, but nothing is impossible!
Six graduates of psychology at Tbilisi State University came across an idea of recording audio books for the blind. They announced a competition for volunteers who would record books for students from 1st to 12th grade of public school No. 202 for students who have problems with their eyesight.
There are around 12,000-15,000 blind people in Georgia. These are people who cannot read books without the help of others.
Goderdzi Gogoladze is one of the graduates of public school 202. He loves reading, so it is not a surprise that his favorite subject is literature. There are special reading hours at his school where Goderdzi and his friends share their impressions from books they read.
Uniting Georgian and foreign authors, from classics to modern bestsellers, Goderdzi and his friends will now have a new attraction.
After selecting 14 out of over two-hundred volunteers, one of the organizers of the project Ketevan Kimosteli trained them in proper speech to ensure that all of them read the books at a high standard so that the blind people listening to the audio books can feel each and every comma or full stop just as we do while reading.
"This is the first project where we considered all the standards blind people had defined as priorities," Kimosteli said.
Marian and Ana Mikiashvili - founders of NGO Mariani said audio books are very necessary in Georgia. So, after the consultations with the students at the public school, their parents and the representatives of the Ministry of Education and Science, 20 books had been selected.
However, these books will be useful for everyone who cannot read with small letters or those who simply prefer listening to reading.
School No. 202 is the only institution for blind people in Georgia. According to the organizers, children who live in regions have less opportunity.
However, Kimosteli said the question how these students would manage to study at the universities together with people who have no problems with eyesight remains unanswered. Of course some of them may have family members who can assist them by reading the books they need during their university studies, but what about those who do not have anyone around?
Last September NGO Mariani signed a memorandum of cooperation with the National Parliamentary Library of Georgia.
"We approve of the idea that the abilities have no limit. We all have some limitations," Director of the National Library Giorgi Kekelidze said, stressing that it is important to support people who for some reasons cannot read.
He said the website of the library will be adapted to the needs of the blind. "A large audio data base will thus be created," he said, welcoming any initiative in this direction.
Kekelidze said that unfortunately the people with disabilities seldom visit the library however he said a special space will be ensured in the library where people would have opportunity to listen to the audio books.
Thanks to the financial support of the Embassy of Poland, the organizers united around the NGO Mariani and Civil Initiative succeeded in carrying out the first project Audio Books for the Blind.
At the closing ceremony on March 25, Ambassador of Poland Andrzej Cieszkowski said that it is important that people with disabilities also contribute to the country.
The first wave of audio books has been recorded and will be available for everyone at www.lib.ge and www.nplg.gov.ge. Moreover, CDs will be delivered to regional libraries.
However, the future of this project depends on the goodwill of the people who would take further responsibilities and finance the project.