President sets new eligibility criteria for pardons
By Ana Robakidze
Monday, March 31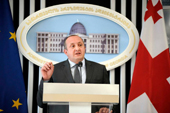 The president's new decree changes the rules and conditions for pardoning prisoners in Georgia. Commenting on the decree, Sozar Subari, Minister of Corrections, said he welcomes Giorgi Margvelashvili's initiative to make preconditions for pardoning more precise. He also explained that the president still retains his right to pardon a person unconditionally.
According to the new regulation, a prisoner serving a life sentence becomes parole eligible if he already has served 15 years in prison. Also the period for repeatedly applying to the State Pardon Commission has decreased from 6 months to 4 months and a half. The commission also receives the right to deal with the removal of past convictions from the criminal records of the individuals who have already served their sentence.
The chairman of the State Commission, Alexander Elisashvili, says the criteria have become more "distinct, fair and humane."
"The new decree allows a larger number of inmates to enjoy the right to receive a presidential pardon." Elisashvili said. However, the rule that states that individuals convicted of multiple crimes or grave offenses sentenced to more than 5 years imprisonment and have not served at least half of the term, cannot become parole eligible still remains.
Public Defender, Ucha Nanaushvili believes the president's decree will definitely make the state commission easily accessible for convicts.
"Many restrictions have been removed; for example, it is not necessary for a convict to have served half of the sentence in order to become parole eligible," Nanuashvili said.
Since having formed a new state commission, President Margvelashvili released two acts of pardon. The third act is planned to be issued by Easter. The State Commission members believe that due to the updated criteria, a larger number of convicts will be pardoned in 2014.