Prosecutor's office rebuffed (again) by Saakashvili
By Messenger Staff
Monday, March 31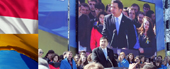 On Friday, March 27, 2014 former Georgian President Mikheil Saakashvili was invited to the Prosecutor's Office to answer questions tied to ten different cases, which are still under investigation.
However, the former president never appeared at the Prosecutor's Office. Moreover, he refused to participate in what Saakashvili described as a "show" staged by the Russian President Vladimir Putin.
The cases for which Saakashvili was invited to the prosecutor's office of Georgia included the mysterious death of the Prime Minister of Georgia Zurab Zhvania in 2005, the death of young bank employee Sandro Girgvliani allegedly committed by the police officials (who were been later pardoned by Saakashvili) and other cases where the former president could have given some important details necessary for the investigation.
Saakashvili has labeled the current situation as a plot and conspiracy against him initiated by Putin and presumably being implemented by the former Georgian PM Bidzina Ivanishvili, who according to Saakashvili is a part of the Russian plot against Georgia.
Georgian officials representing the Georgian Dream coalition condemn Saakashvili's refusal to take part in the investigation, saying that it is disrespectful to the country, and its legal system.
However, the members of Saakashvili's United National Movement (UNM) think that the investigation deliberately included the former president in the cases in order find fault and to detain him. Officials say response that Saakashvili was invited only as a witness and there are no charges filed against him so far. Although it should be said that in certain cases Saakashvili's involvement might appear probable.
When the time of his appearance expired, the prosecutor's office suggested that Saakashvili answer the questions of the investigation via Skype in which he refused as well.
Later, one of the leaders of UNM, former Mayor of Tbilisi Gigi Ugulava, made a statement mentioning that Saakashvili will appear and answer questions via Skype only if there is a criminal case against him, and he has to answer to the allegations during an official court hearing. Otherwise, he will ignore the claims of the Georgian prosecutor's office, which are groundless and aimed at discrediting the former president and his team.
Analysts commenting about the case suggest that Saakashvili is afraid of being arrested because he himself knows very well the wrongdoings he has committed, after all he is a lawyer by education.
So, in following the presumption of innocence, it is necessary for the prosecutor's office to produce convincing evidence against the defendant. Only then can Georgia prove to the world community that it is taking the right steps against former officials. As for the court hearing, this could also be done again if there are solid legal arguments.
Georgia's Western friends admit that everyone is equal against the law, but it should be convincing and not take the form of political revenge or prosecution. Justice should be straightforward and fair and should not require extra explanations or excuses.