25 years since the April 9 tragedy
By Ana Robakidze
Thursday, April 10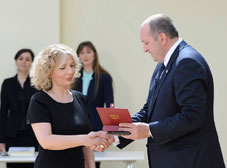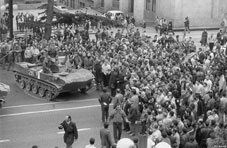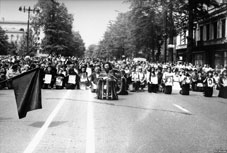 Georgia marks the 23rd anniversary of its independence from the Soviet Union and the 25th anniversary of the April 9 tragedy, when the Soviet Union's armed forces dispersed a peaceful demonstration in the center of Tbilisi, on April 9th 1989.
Citizens of Georgia gather at the memorial located in front of the old Parliament building in Tbilisi, to pay tribute to the victims. 20 people were killed on April 9th in a peaceful demonstration demanding the country's independence from the Soviet regime.
April 9th is also marked as a day of restoration of the country's independence. In 1991 Legislative body of the country and the first President, Zviad Gamsakhurdia adopted the Declaration of Independence and announced its sovereignty from the Soviet Union.
"25 years have passed from April 9, 1989. This day became a symbol of struggle for freedom and self-sacrifice of Georgian people in the modern history of Georgia. Independence and freedom were the ideals, for which our countrymen lost their lives.
This is doubly important date in the recent history of Georgia - exactly the tragic events of April 9, 1989, self-sacrificing fight against Soviet imperialism resulted in the declaration of independence exactly 2 years later, on April 9, 1991.
The dedication of our countrymen who shed blood for the country was not lost. Today Georgia is an independent and free country. We will never forget our heroes, will always honor their memory and will remain committed to the ideals to which they sacrificed." Prime Minister Irakli Gharibashvili said in his statement. He visited the memorial together with his cabinet members.
According to President Giorgi Margvelashvili's decision, the victims of the April tragedy have been awarded with the St. George's Orders of Victory for their civil devotion, for the contribution to the national-liberation movement and the struggle for the independence of the state posthumously.
The president handed over the orders to the families of the heroes at the ceremony held at the President`s Palace. Margvelashvili spoke at the significance of the day in Georgian history and said that the victims played a great role in uniting the nation around the great idea of independence.
The demonstration in 1989 began on April 4th, when a group of students went on hunger strike. They were joined by several hundred people later. On April 9, 1989, at 4 a. m., the special task units of the Soviet army, commanded by General Rodionov crushed the rally. The Soviet troops also used toxic agents against the peaceful demonstrators. Sixteen demonstrators were killed on the scene, four died later from injuries, hundreds of others were injured, poisoned and admitted to hospitals.