Draft law on Postal Services may have negative impact on the postal sector
By Ana Robakidze
Friday, April 18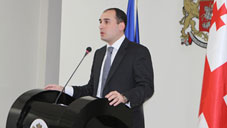 Large international cargo companies are going to leave the Georgian market if Parliament approves a new draft law on postal services. The draft was developed by the Ministry of Economy and Sustainable Development with the purpose to introduce a new state regulatory framework in the postal sector.
Cargo companies as well as many experts believe that new regulations will have a negative impact on a competitive business environment and will establish a monopoly for the Georgian Post.
The draft sets new bureaucratic barriers on new companies intending to engage in Georgian postal service activities. Georgian National Communications Commission (GNCC) is a regulatory authority for the postal sector. Therefore, the new companies will have to receive authorization issued by the GNCC in order to start their activities in postal services. Also, only one authorized operator shall be granted the status of the National Postal Service Operator through a decision by the Ministry of Economy and Sustainable Development. The status is to be granted for a period of 20 years.
Large Cargo companies strictly oppose the draft, which states that Georgian Post shall be granted the status of the National Operator.
New regulations will restrict competition on the market as all other companies will have to deliver their services through the National Operator and/or "under its umbrella". The National Operator receives all the rights to carry out both the universal postal service and the universal reserved postal service including receiving, sending, shipping, delivering letters weighing up to 2 kg, and not exceeding 7 kg, parcels weighing up to 20 kg, and special "M" bags and international parcels weighing up to 30 kg.
Experts say no similar practice can be found internationally.
The Ministry of Economy and Sustainable Development hosted large cargo companies on April 16th to discuss the draft law. Representatives from DHL and TNT informed the ministry about the problems their companies might face in the case that the new draft is approved.
The First Deputy Minister of Economy, Dimitri Kumsishvili, said that the main goal of the ministry is to draft new regulations in order to meet customers' requirements. According to Kumsishvili the ministry does not have any interests against the private companies on the market. The ministry is still working on the draft and the final version will be presented to the government in the nearest future.
In the case Parliament approves the current draft, about 40 carrier companies are going to appeal to the Constitutional court of Georgia.