Parliament to elect two more members to GPB board
By Ana Robakidze
Wednesday, April 23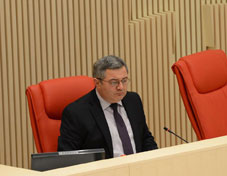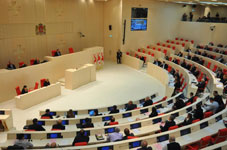 The Parliament approved three new members of the Board of Trustees of the Georgian Public Broadcaster (GPB). On April 17th Sandro Vakhtangov, Grigol Gogelia and Giorgi Kokhreidze officially joined the board.
Parliament could not complete the board as it voted down the two candidates presented by the United National Movement opposition party. The UNM had nominated Ninia Kakabadze, a media and film critic and Davit Kiziria, an assistant professor at Ilia State University.
The opposition party was disappointed in the parliament's decision. UNM leader, MP Davit Bakradze said after the session that the Georgian Dream simply showed its disrespect to the system of quotas which allows various stakeholders (among others, parliamentary majority and minority groups) to select their own candidates.
Parliament will once again try to complete the board within ten days. The UNM has decided to name the same candidates, but in this case they will require at least 51 votes to be confirmed as board members.
The law on the Public Broadcasted was amended in 2013. The parliament suspended the authority of the board members and started composition of the new nine-member board. However, the board still cannot be completed. The first attempt to approve all 9 candidates turned out to be unsuccessful and the parliament approved only four members from the list of candidates provided by civil society and media representatives. On April 17th Parliament gave it another try and approved another three candidates. However, two more seats still remain vacant on the board, parliament voted down the candidates nominated by the United National Movement opposition party and the board now has only seven members
Also, the Georgian parliament will have to review the law on broadcasting once again. The Constitutional Court of Georgia ruled that the amendments made to the law back in 2013, which pre-term terminated authority of the acting members of the board, is unconstitutional. Many believe that Parliament should combine the old and new board member on one team, therefore increase the total number of the seats on the board.
Parliamentary speaker, Davit Usupashvili, said after the session that lawmakers will continue consultations with all the stakeholders and will discuss further amendments to the law on broadcasting. He also hopes that after the second round of voting the trusteeship board will be finally composed.