TBC bank presents special mortgage loan
By Ana Robakidze
Wednesday, April 23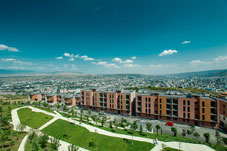 TBC Bank is offering a special mortgage loan to customers willing to purchase a property at the Lisi Development residential complex.
TBC Bank's new product was presented to media outlets on April 19th. The bank offers exclusive rates on mortgages from 0 up to 8.44 %. In particular, in the case of a loan with a 15-month period, the interest rate will be 0%, while the 5-year loan with an annual rate of 8.44 % is much lower than standard rates offered by the banks.
Lisi Veranda is a new residential complex developed by Lisi Development in an environmentally friendly area nearby Lisi Lake in Tbilisi. The company started the refurbishment of the Lisi Lake infrastructure in 2012. Jogging and bike tracks have been created around the lake. Sports and children's game fields have been built on its banks. A newly opened cafe, boating point and beach were installed last summer.
The residential complex offers exquisite contemporary architecture and a multifunctional recreation area, including 4000 M2 Park, a swimming pool and fitness center. The complex includes over 120 apartments, 16 townhouses and 2 villas.
The company is focused on creating environmentally friendly and healthy residential areas in Tbilisi. Lisi Veranda currently occupies 5 hectares of land, but the company is going to continue the construction and the complex shall expand on larger territory. Lisi Development is planning on starting the second phase of the project in May 2014 and will offer an additional 260 residential units to its customers.