Hazelnut business successful in Georgia
By Messenger Staff
Tuesday, May 6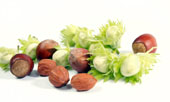 The hazelnut business is one of the most successful aspects of Georgian export. Georgia has established itself on the agricultural map with hazelnut export. This year, Georgia yielded a solid harvest of hazelnuts, which was sold for 4.3-4.5 GEL per kilo, whereas in previous years, it was approximately 2.5-3 GEL.
The Guria and Samegrelo regions are the most successful hazelnut growing regions in Georgia, followed by Imereti, Adjara and Kakheti. There is also a big harvest in breakaway Abkhazia.
Georgia is currently in fourth place in hazelnut production after Turkey, Italy and Azerbaijan. Georgia is ahead of Spain, Iran, US and China.