Georgia's domestic loans increase
By Messenger Staff
Tuesday, May 6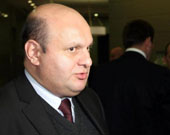 In 2014 Georgia's domestic loans started increasing dramatically. Currently Georgia has issued treasury state bonds for around 1 billion GEL.
While adopting 2014 state budget, Georgia's Finance Minister Nodar Khaduri assured the population that the country has the reserves to cover expenses. Presumably, he meant taking domestic loans to cover the budget requirements.
So, currently, the domestic loan continues to grow. Some experts consider this move as a necessary step to rescue the country from a difficult economic situation.