Memorandum signed between MoD and ICRC
Thursday, May 22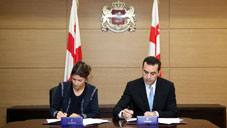 A Memorandum of Understanding has been concluded between Ministry of Defence of Georgia and the International Committee of the Red Cross (ICRC) regarding the dissemination of the knowledge regarding international humanitarian law and cooperation in the integration sphere. Minister of Defence Irakli Alasania and Acting Head of the ICRC delegation Rikke Ishoy signed the MoU. The goal of the document is to promote the introduction, dissemination and implementation of international humanitarian law principles in the Georgian Armed Forces.
To this end, a working group will be established with the participation of ICRC representatives, which will provide the spread of humanitarian law regulations and their integration.
Within the framework of the MoU, cooperation between the MoD and the ICRC will further deepen to accelerate the process of introducing humanitarian law principles in the GAF.