Conference of European Armies for Noncommissioned Officers
Thursday, May 22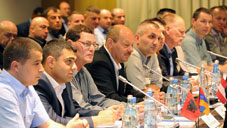 Georgia is hosting the 8th Annual Conference of European Armies for Noncommissioned Officers. Sergeant major of the Georgian Armed Forces, Aluda Kopaliani, U.S. Army Europe Command Sergeant Major David Davenport and Deputy Chief of the Mission Bridget Brink opened the conference "The NCO's Roles and Responsibilities in Future Security Challenges".
The three-day conference is held under the aegis of the U.S. Army Europe (USAFEUR) and the Georgian Armed Forces in the hotel "Holiday Inn". Within the conference sergeant majors of the armed forces of 34 European countries engage in discussions of current and future challenges facing their militaries, including the role of the NCO during force transformation, NCO professional development and NCO education.
The first conference of European armies for noncommissioned officers was held in Grafenwoehr, Germany in 2007. The forum aims to improve security and military capability among the forces of each host nation, to build cooperation and inter operability throughout the region. Georgia has been taking part in the conference since 2009.