Georgian PM and his cabinet pay official visit to Belgium
By Ana Robakidze
Thursday, May 22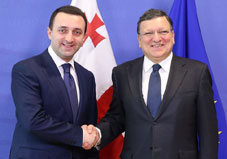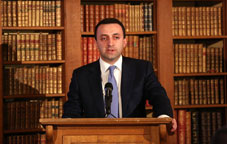 Georgian Prime Minister Irkali Gharibashvili and his delegation of ministers paid an official visit to Belgium on May 20th. The delegation started their visits in Westerlo Palace, where the dinner hosted by the Prince of Belgium, Emmanuel de Merode. The dinner was attended by more than a hundred businesspeople and Harvard Club members.
"I believe one of the most important achievements of my nation has been our commitment to democratic reforms, the success of which has been widely recognized by our international partners," Gharibashvili said in his address to the guests in Westerlo Palace.
Speaking about Georgian-EU relations and the Association Agreement (AA), the PM said he expects a lot work to be done after the AA is signed.
"Georgia's relationship with the EU has become so intense that it is impossible to talk about domestic reforms without talking about the EU. This trend is rapidly increasing… We will sign the agreement (AA) on June 27. Since trade is included in the Eastern Partnership competence, the Deep and Comprehensive Free Trade Area agreement will take effect a few weeks after its signing. The Georgian government will not wait for the ratification from the European Parliaments for implementation of the agreement," the PM said, and added that the final goal of Georgia is to achieve EU membership.
Gharibashvili assured the guests of the dinner that Georgia is a reliable partner for the EU and the country can be a great contributor to various EU projects. He also spoke about the Russian influence in the region and said Georgia is ready to resist possible pressure.
"We expect further attempts from the Russian Federation to increase pressure on Georgia as Russia refuses to reciprocate Georgia's non-use of force pledge and remains in breach of the EU-mediated ceasefire agreements. The EU can stand assured however that Georgia will not give-in to such pressure," PM said.
Within the framework of his visit, Gharibashvili had a bilateral meeting with the President of European Commission, Jose Manuel Barroso. The two discussed technical issues related to the signing the AA. After the meeting it was announced that the President of European Commission will visit Tbilisi on June 13th.
The Georgian delegation, which includes the Minister of Foreign Affairs Maia Panjikidze, Minister of Economy and Sustainable Development Giorgi Kvirikashvili, Minister of Energy Kakhi Kaladze, Minister of Justice Tea Tsulukiani, State Minister of Georgian on European and Euro-Atlantic Integration Alex Petriashvili, Minister of Agriculture Shalva Pipia, the State Minister of Georgia for Reconciliation and Civil Equality Paata Zakareishvili, has meetings planned with various officials and EU institutions, including the Euro Commission Board. The members of the delegation will present the works performed by the agencies working on the Association Agreement.