The NATO Parliamentary Assembly calls on alliance to pursue its open door policy
By Ana Robakidze
Monday, June 2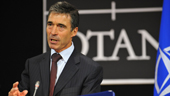 The NATO Parliamentary Assembly hopes NATO member states will promote Georgia closer to alliance membership. The non-binding declaration adopted by the assembly on May 30th says it is important to recognize the progress achieved by aspiring countries and to consider taking the next steps in the process of NATO enlargement.
NATO hopes that NATO member states will follow-through on the decision taken at the Bucharest Summit in 2008 that envisions Georgia becoming a member of NATO via first the Membership Action Plan (MAP) at the NATO Summit in Wales.
The Parliamentary Assembly is confident in the success of the enlargement policy and believes NATO should continue with its open-door policy by rendering aspirant countries assistance in achieving their goal of NATO membership, as it has done in the past.
"Alliance enlargement has been an unambiguous success as a crucial factor for stability and prosperity in Europe as well as a catalyst for consolidating democracy, bolstering the rule of law, promoting tolerance and human rights, and ensuring civilian control of the military... NATO enlargement poses no threat to any nation but rather enhances the security and stability of the entire Euro-Atlantic region," the declaration states.
Speaking at the Parliamentary Assembly Session NATO Secretary General Anders Fogh Rasmussen said Georgia has done a lot to fulfil the necessary criteria for alliance membership and the country will become an alliance member in the future. However, he was unable to specify whether Georgia will be granted MAP in Wales or not.
Answering Georgian lawmaker Tedo Japaridze's questions about the expectations NATO has from Georgia, Rasmussen said Georgia has achieved a lot in various fields and now the alliance is in the process of assessing each of the four aspirant countries.
"Georgia has done a lot to fulfil the necessary criteria to becoming a NATO member once in the future and that of course leads you to question what can Georgia expect at the summit (in Wales)... I have to tell you that it is a bit too early to predict. We are now in the process of assessing each of the four aspirant countries," the Secretary General said. Rasmussen also mentioned that he personally believes the progress of Georgia should be properly reflected one way or the other at the summit. However, he also asked the Georgian side to note that NATO member states will need to achieve consensus to grant MAP to Georgia.