PM visits construction site of new Batumi hotels
Monday, June 2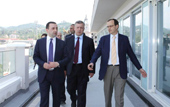 Batumi is quickly developing a name for itself as one of the country's top tourism destinations.
To cater for increasing tourist numbers, two new hotels are being built in the Black Sea resort town.
The Prime Minister of Georgia visited the Adjara region today and overlooked where several new hotels are being built.Prime Minister Irakli Garibashvili, Economy Minister Giorgi Kvirkveilia and the Chair of Autonomous Republic of Adjara Archil Khabadze first went on a tour of the Hilton Hotel construction site in Batumi.
The hotel's construction manager, Ben Koster, introduced the hotel project to the guest and explained the features of the complex, including 22 retail store areas. The hotel will consist of 248 rooms and the residential building will have 90 apartments. The project also included a commercial space and casino."Works are being carried out at the highest level and the quality is the best. I am very happy that a hotel and residence of such high-end will open in Batumi," Garibashvili said."It is very important that large-scale projects are carried out in Adjara."Garibashvili said construction actively began at the Hilton Hotel site in October 2013. Since then, 18 months later, the project was producing "impressive results"."At the end of the year we will open this important project together," Garibashvili said.
About ˆ90 million (217 million GEL) has been invested in the project, which is being carried out by Tourinvest construction company.Later in the day, Garibashvili and Kvirkveilia visited the construction site of Redix Group's new apartment-hotel 'Le Porte', also in Batumi.They officials were led around the site by Redix Group founder and local businessman Lasha Papashvili.An investment of $10 million USD (17.75 million GEL) has been put into the construction of 'Le Porte'.The new hotel will be located in old Batumi, opposite the port. The complex will include 45 apartments, which will be made up of two single rooms, 34 two-room suites and seven three-room residential areas. The top floor will house two five-room luxury apartments.
(Agenda.ge)