Latvian Defence Minister Visits Georgia
Thursday, June 26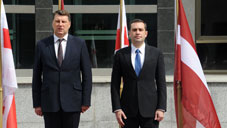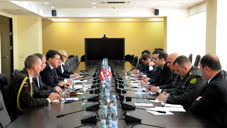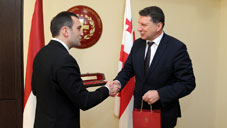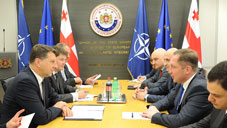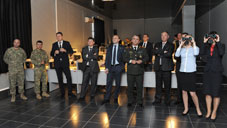 Minister of Defence of the Republic of Latvia Raimonds Vejonis pays an official visit to Georgia. Georgian Minister of Defence Irakli Alasania hosted his Latvian counterpart. An official welcoming ceremony was held in the Georgian Defence Ministry. The military brass band of National Guard performed Latvian and Georgian state anthems.
Following the ceremony, the meeting was held between the Ministers of both countries. At the beginning of the meeting, Georgian Minister of Defence thanked the Latvian Minister of Defence for his support of Georgia's Euro-Atlantic aspirations and its territorial integrity. Irakli Alasania underlined importance of Latvian observers' participation in the EUMM and active involvement of "Georgia III" Latvian side in the NATO Trust Fund project.
The ministers discussed bilateral cooperation issues and future perspectives between Georgia and Latvia. One of the main topics of discussion was also the prospects of Georgia's integration into NATO. The sides drew attention to the importance of signing Association Agreement with the EU. Georgian Minister of Defence informed Raimonds Vejonis about Georgian troops' engagement in the international missions led under the aegis of NATO and EU in Afghanistan and Central African Republic.
Irakli Alasania briefed his Latvian counterpart on the reforms implemented in the defence sector of Georgia. He stressed the progress achieved in defence transformation process, including joining NATO BI program, institutionalized reforms carried out in the armed forces, transition to Pay-by-Rank, making the army depoliticized, improving social conditions of the military servicemen and development of infrastructure.
Ministers of Defence of Georgia and Latvia exchanged the presents and made comments for the media representatives. "We are honored to host Mr. Raimonds today in Georgia, who is a very good friend of Georgia. Our meeting is a demonstration of Latvia's full support to Georgia towards its aspiration to NATO and EU. Bilateral relation between Latvia and Georgia is developing dynamically and today we have agreed to deepen our cooperation in specific fields. It concerns Intelligence cooperation and Latvia's full support towards institution development of Ministry of Defence of Georgia. Of course, today we have discussed regional security issues; in particular, the situation in the Ukraine and what steps should be taken by NATO, the EU in order to protect our countries and interests. Latvia supports Georgia's full-fledged membership to NATO. I am sure, that on the upcoming Wales Summit, Latvia's support and vote will be vitally important for Georgia as well as support of the Baltic States and Eastern Europe. I am pleased to say that, Mr. Minister, agreed to participate in Defence and Security Conference in Batumi, organized by MoD where we will continue to discuss the issues important to our region", stated the Defence Minister Irakli Alasania.
As Defence Minister of Latvia stated: "Latvia and Georgia are very good friends for many years. We had a very good discussion during our meeting and first of all we discussed security issues in Europe. Because Russian activities in Ukraine have opened eyes for many countries it is necessary to work more closer and we must think more about security in the region. Latvia fully supports Georgia's aspiration to join EU and NATO. From Latvia's side we always support these activities; also during the NATO meetings we are always saying that Georgia must be a member of NATO. During the Wales Summit NATO must prepare decision for the next steps how Georgia and other three countries could join NATO. Membership Action Plan is very important for all countries. Georgia has done a lot for reaching this goal, first of all lot of reforms in different fields like defence field are very important. We can see that real democratic processes has started in Georgia. I have been as an observer during last presidential, municipal and parliamentarian elections and I can say that Georgia is on right road and is really becoming a democratic society. Finally, we, of course, spoke about strengthening cooperation between Latvia and Georgia. We recognize many fields where we can strengthen our cooperation like participation in different exercises, exchange of experts, instructors and many other activities what we can practice to together".
Within the official visit to Georgia, Defence Minister of Latvia Raimonds Vejonis was hosted by President of Georgia Giorgi Margvelashvili at the President's Administration. Defence Minister of Georgia Irakli Alasania and Chief of General Staff of the GAF, Major General Vakhtang Kapanadze attended the meeting.
The President of Georgia expressed gratitude to the Defence Minister of Latvia for the support of Georgia's aspirations towards Euro-Atlantic integration and territorial integrity. The sides discussed bilateral cooperation issues in defence and security directions between Georgia and Latvia. Georgia's prospects to NATO membership was one of the main topics at the meeting. The sides also referred to the existing situation in the region.
Latvian Defence Minister, together with Deputy Defence Minister Mikheil Darchiashvili and Plenipotentiary Ambassador of Georgia to Latvia Teimuraz Janjalia, also met with the State Minister on European and Euro-Atlantic Integration Alexi Petriashvili. Georgia's prospects to NATO membership and upcoming Wales Summit were highlighted at the meeting as well. The sides drew attention to the importance of signing Association Agreement with the EU and discussed regional security issues.
Within the frames of an official visit to Georgia, Minister of Defence of Latvia Raimonds Vejonis arrived at the National Training Centre as well. Deputy Defence Minister of Georgia Mikheil Darchiashvili and Deputy Chief of General Staff Brigadier General Vladimer Chachibaia have also accompanied the guest at "Krtsanisi". During an introductory briefing, instructors of the centre delivered the presentation for Raimonds Vejonis on the specifics of the Training Centre. Following the briefing, Latvian Minister of Defence took a view at simulation centers of Artillery School and "Alfonse 2M".
Defence Minister of the Republic of Latvia and the delegation members paid a tribute to the heroes fallen for Georgian territorial integrity. Minister Raimonds Vejonis delivered a minute of silence to the memory of the Georgian heroes fallen in the fight for territorial integrity and international operations and laid a wreath at the Heroes' Memorial. Chief of General Staff of the GAF, Major-General Vakhtang Kapanadze, as well as the leadership of the MoD and General Staff attended the wreath laying ceremony as well.
Within the visit to Georgia, Minister Raimonds Vejonis will also take a part in the "Georgian Defence and Security Conference" held in Batumi on June 26-28.