Supporting Event Dedicated to Soldiers with Post Trauma Problems
Thursday, June 26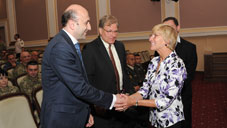 An event dedicated to the soldiers suffering from post-trauma problems was held at the Defence Ministry of Georgia.
U.S. Army Colonel Jill Chambers delivered a presentation to the guests on how to overcome post trauma stress. Colonel Chambers visited Georgia together with her spouse, famous Country music performer, Michael James Peterson.
Deputy Defence Minister Mikheil Darchiashvili opened the event. During the speech he underlined bilateral cooperation issues in the defence sphere between Georgia and the US. He also highlighted the importance of the rehabilitation of the military servicemen in the post- trauma period.
Colonel Jill Chambers delivered a presentation on overcoming post-traumatic stress and rehabilitation topics to the representatives of the Medical Department of the General Staff of the GAF, Georgian military doctors and military servicemen. Michael Peterson performed several compositions created for supporting wounded warriors at today's event as well.
Jill Chambers is engaged in the psychological assistance program. For this purpose, she travels to many countries all over the world together with her spouse and delivers information to society on the rehabilitation technologies and tools of the U.S. Army.
U.S. Ambassador to Georgia Richard Norland attended the event held under the cooperation of Georgian Defence Ministry and the U.S. Embassy to Georgia.