SPAR international in Georgia
By Messenger Staff
Thursday, June 26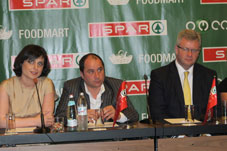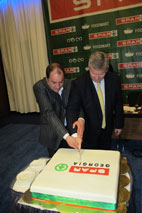 Georgian Foodmart and SPAR international signed a memorandum on June 25. The international brand will be exclusively sold in Foodmart and Ioli markets. Through the agreement signed between the sides, an overwhelming re-branding will be undertaken in Foodmart and Ioli as well. Foodmart representatives Giorgi Chubinishvili and Natia Cholokashvili stated that the arrival of this international brand on Georgian market and the agreement signed between the companies would ensure improvement in quality. She stated that Georgia will operate SPAR franchise outlets several dozen in number.
SPAR International, the world's largest food store retailer with over 12,000 stores worldwide, has today reported global retail sales of ˆ32.2 billion for the year ending December 31st, 2013 - an increase on 2012 of 4.1% on a constant currency basis. The growth is the result of a significant strategic focus for the brand on new and emerging markets, with SPAR operations in China, Russia and the Middle East delivering further rapid expansion of their store networks.
The results were announced at the 59th International SPAR Congress taking place this week in Rome, Italy which is being attended by over 200 SPAR Partners from 35 countries around the world.
Addressing delegates, SPAR International Managing Director, Dr. Gordon Campbell said, "Retail sales for 2013 show the ongoing attraction of the SPAR Brand for independent retail operators across the globe. In what remains a challenging business environment for many of our partners, their dedication to the SPAR Brand values of freshness, choice, value and service, along with continuous retail innovation, continues to serve their customers and their businesses very well."
Dr Campbell continued: "Last year was a year of sustained global expansion for SPAR following the launch of our Growing Our Future Together strategy which placed a strong focus on growing the SPAR brand in new markets, while supporting the ongoing development of long-term Partners in the brand's established European markets. Our unique multi-format approach, underpinned by our growing private label product range, has given our brand the flexibility required to meet the ever changing needs of today's increasingly discerning global consumer."
Today SPAR has retail operations on four continents and in 35 countries, with a further four countries - Georgia, Qatar, Lebanon and Angola - due to join the network in the coming months.
Looking to the future Dr. Campbell commented, "The signs for 2014 look positive. We will continue to seek out local partners who have the vision and capability to provide modern food retailing while adhering to the SPAR retailing principles. We have a strong new business pipeline in both existing and new markets and I am confident that we will be welcoming our 40th SPAR country on board during 2015".
SPAR International's multi-format strategy sees its Partners operate over 12,000 Hypermarket, Supermarket, Neighbourhood and Convenience stores serving the needs of 13 million customers daily.