Abkhazia will vote for de-facto president in August
By Ana Robakidze
Wednesday, July 16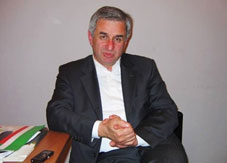 Four candidates will run for president in Georgiaís breakaway region of Abkhazia, on August 24.
MP Raul Khajimba, leader of Forum of the National Unity of Abkhazia party; acting Defense Minister, Merab Kishmaria; head of the breakaway regionís security service, Aslan Bzhania, and former Interior Minister Leonid Dzapshba, will fight to take the presidentís post.
The presidential race originally had five participants, but the former deputy prime minister of Abkhazia, Beslan Eshba was rejected during registration after having failed to show standard results in the Abkhazian language test. Language proficiency is one of the requirements for the presidential candidates in the breakaway region, and language skills are checked by a special commission of five members.
Commenting on the language test, Chairman of the Exam Commission Shota Arstaa, expressed his dissatisfaction with the fact that due to limited vocabulary in Abkhazian language, Abkhaz leaders use the Russian language more often.
Sergei Shamba, the former Prime Minister of Abkhazia, refused to participate in the election as a candidate, instead he announced his support for the opposition leader Raul Khajimba, who is the main candidate.
The Abkhazian government put restrictions on the ethnic Georgian electorate. Resident of three districts in the Gali region and one district in Tkvarcheli will not be able to participate in the August 24 polling. According to one of the Abkhazian MPs Alsan Kobakhia, people from those four districts hold Abkhazian passports illegally and the government is trying to investigate the matter. In the case it is proved that Georgians living in Gali and Tkvarcheli are eligible for Abkhazian citizenship, new passports will be issued to them next year.
It became necessary to hold presidential elections after former President Alexander Ankvab resigned on June 1, blaming the opposition for a coup d'etat. Ankvab had to seek shelter for several days in Russian army barracks in Gudauta after the opposition started demonstrations in Sokhumi at the end of May.