The News in Brief
Wednesday, July 16
Erosi Kitsmarishvili found dead near his house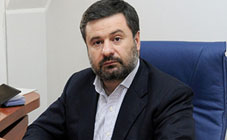 Former candidate for the mayor of Rustavi Erosi Kitsmarishvili was found dead near his house on Tuesday.
According to the Ministry of Internal Affairs of Georgia, police officers found a firearm next to the body of Erosi Kitsmarishvili. Police speaks on suicide .Kitsmarishvili's relatives' claim that he was killed. Kitsmarishvili was the founder of Rustavi 2 and Maestro TV. He was Georgia's ambassador to Russia and was actively involved in politics. He was participating in the recent local-elections for Rustavi mayor.
Israeli Ambassador thanks Georgia for support
Israeli Ambassador to Georgia Yuval Fuchs is thanking Georgia for offering support and solidarity to Israel as the country faces ongoing attacks. Fuchs released a special statement that said the proactive stance of the Georgian Government and its people had, once again, proven their friendship to Israel."Nearly 10 years ago Israel came out of Gaza. This was not an easy decision but based on our interests we took this step," he said in the statement."From the Gaza Strip, which is controlled by Hamas, we have received thousands of rockets in response, which have been directed towards our towns and citizens in recent years," Fuchs said. He said Israel needed to defend itself and like any Government, Israel had the right to protect itself from bombs and save millions of people who lived in the areas targeted by Hamas rockets."I respect and appreciate the solidarity that the Georgian Government and its people have expressed towards Israel. I want to specifically thank Prime Minister [Irakli] Garibashvili and each member of the Georgian Government for their concern of the situation in Israel and for [freely publicizing] the fact that Israel has a right of self-defense," he said. "Throughout the last few days I have received many letters from Government members and friends, which were filled with concerns and solidarity. Thank you very much," Fuchs' statement read. Yesterday the Georgian Prime Minister released a special statement that expressed "deep concern" about missile strikes on Israel."The Government believes that every state has the right to defend itself from external threats and [Georgia] supports Israel's right to defend their country, people's lives and safety," Garibashvili statement read.
(agenda.ge)
Irene Imerlishvili gives Giorgi Margvelashvili's letter to Francois Hollande
Georgian President Giorgi Margvelashvili's representative Secretary of National Security Council of Georgia Irina Imerlishvili has given President Margvelashvili's letter to the President of France Francois Hollande.
"Mr. President, I am honored to cordially congratulate you and the people of France, on the French national holiday. I wish you peace and prosperity. It is a great honor for me to participate in an event marking the 100th anniversary of World War I", the letter says.
Giorgi Margvelashvili talked about the French President's role in insuring peace and cooperation in the world. The Georgian President thanked Francois Hollande and the people of France for supporting Georgia's territorial integrity and sovereignty. "I greatly appreciate the friendly ties between our two countries and I believe that our cooperation will further deepen. EU integration is the key political task of our government and the people of Georgia. Your support is invaluable in this regard. Signing the EU Association Agreement will open new historical perspectives for cooperation between our two countries", the letter says. Giorgi Margvelashvili recalled also Francois Hollande's visit to Georgia. "I congratulate you once again on this day, please accept my deepest respect", says the letter of congratulations of the President of Georgia.
(Frontnews)
Ukraine has already gotten rid of pro-Russian tycoon Ianukovych, while we have not succeeded in doing this – Vano Merabishvili
"Ukraine has already gotten rid of pro-Russian tycoon Yanukovych, while we have not managed to this so far," announced Georgia's former PM and Minister of Interior Affairs, Vano Merabishvili, at the Court of Appeals yesterday. Mr. Merabishvili greeted Ukraine's former Minister, Yuri Lutsenko, who attended his trial. As per Merabishvili, Mr. Lutsenko has already passed through what we are going through today.
As Georgia's former PM announced, the Rose Revolution first took place in Georgia and then Ukraine; however, in the Minister's words, Ukraine has left Georgia behind from the point of view of democracy. After this, Mr. Merabishvili turned to the judge and jurors and told them that this trial is an indelible stain fixed on their reputation.
"Hail, my friend. We will still fight together and will free the country from oligarchs and occupants," announced Mr. Merabishvili and left the trial. His advocates, family members as well as Yuri Lukacenko followed his lead and withdrew themselves from the Court. In addition, before leaving the hall, Ukraine's former Minister turned to the judge and told him: "you are more scared than Vano today. He also emphasized that the judge who declared him guilty was sentenced to 4 years in prison.
(IPN)
New Zealand FM Visits Tbilisi
Foreign Minister of New Zealand, Murray McCully, held talks with the Georgian leadership in Tbilisi on July 14.It's the first visit of a New Zealand foreign minister to Georgia.
Foreign Minister McCully visited Tbilisi as part of his European trip, which also included visits to Montenegro and Croatia. In Tbilisi he met his Georgian counterpart Maia Panjikidze; President Giorgi Margvelashvili; PM Irakli Garibashvili and parliament speaker Davit Usupashvili.
Speaking at a news conference after meeting his Georgian counterpart, the Foreign Minister of New Zealand said that his country and Georgia "cooperate in the Pacific" region. "We have many smaller countries in the Pacific greatly interested in developments in this part of the world," McCully said and expressed hope to see his Georgian counterpart at the Pacific Islands Forum in Palau later this year. Georgia started to intensify contacts in the Oceania region after several small island nations in the Pacific recognized Georgia's breakaway Abkhazia and South Ossetia. In 2011 Georgian parliamentary delegation, led by then parliament speaker Davit Bakradze, visited Australia and New Zealand, which was then followed by a visit of then Georgian Foreign Minister Grigol Vashadze to the same countries, as well to Fiji. Last year Georgia established diplomatic relations with Vanuatu, small island state in the middle of the South Pacific Ocean, which affirmed its support to Georgia's territorial integrity, putting an end to confusion and uncertainty surrounding Vanuatu's recognition of Abkhazia and South Ossetia in 2011. In March, 2014 Tuvalu, tiny island nation in the South Pacific, retracted its recognition of Abkhazia and South Ossetia. Georgian Foreign Minister Maia Panjikidze thanked New Zealand for "unwavering support" to Georgia's territorial integrity. "We consider New Zealand as our partner not only in the Oceania region, but globally as well," Panjikidze said. The Foreign Minister of New Zealand said that in the bilateral economic relations his country wants to focus on cooperation in agriculture. "I believe there is an enormous scope for us to cooperate in that area," Foreign Minister McCully said.
(Civil.ge)