Moscow to suspend free trade with Georgia
By Ana Robakidze
Friday, August 1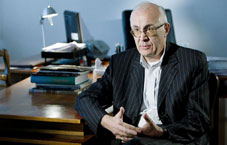 Russia is going to suspend free-trade relations with Georgia. A subsequent draft law has already been prepared by the Rusisian Duma in cooperation with the Ministries of Justice, Foreign Affairs and Economy. Moscow has always been clear about its negative attitude to Georgia approaching the European Union market and now it has decided to suspend trade relations with Georgia by revoking the agreement signed between the two countries on February 3, 1994. The decision was not a big surprise for the Georgian government.
The Georgian Prime Minister's Special Envoy for relations with Russia Zurab Abashidze clearly sees that Moscow has made the decision based on political motives, but he says it is not a big "tragedy" for Georgia. Speaking to one of the Georgian TV channels, Abashidze said revoking the free trade agreement will increase taxes and prices on Georgian products on the Russian market. Otherwise it will not cause big problems to Georgian business. "We have to become accustomed to the situation," the Georgian diplomat said.
The government is sure it is possible to overcome the difficulties and Georgian companies will still be able to stay on the Russia market as the countries continue trade relations within the WTO framework.
'"I do not see a tragedy. We will follow the world trade organization rules. Both parties are members of WTO. Consequently, our relations will continue based on to these (WTO) regulations." Minister of Defense, Irakli Alsania said. He believes Georgian manufacturers have a great future on European markets, therefore the country should not expect serious financial loss from suspending free trade relations with Russia.
The government is going to continue consultations with the Russian side. According to the Prime Minister the parties should be able to achieve an agreement.
Expert in Economic issues, Demur Giorkhelidze thinks Georgia will be bound by the WTO regulations and fee standards, or alternatively Russia will set new customs duties for Georgia, which should be 7.8% on average. The expert says increased taxes will have a direct impact on product prices and therefore it will be harder for the Georgian companies to keep their place on the Russian Market.
Speaking to Business Press News (BPN), the president's adviser on economic issues, Giorgi Abashishvili said the suspension of free trade relations with Russia will not put the Georgian economy at serious risk. Abashashvili explained that Russia is not going to put restrictions on particular products or suspend import from Georgia. The draft offers to impose customs duty on the products, as so far Georgian products have been free from import duty in Russia.